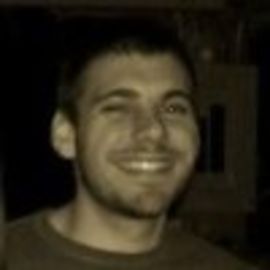 Eric Simons
One snowy day in Ushuaia, Argentina, the self-proclaimed "southernmost city in the world."
One snowy day in Ushuaia, Argentina, the self-proclaimed "southernmost city in the world," at the end of a long trip designed to put as much distance between himself and a frustrating post-college job, writer Eric Simons picked up a copy of Charles Darwin's Voyage of the Beagle. Simons and two friends had just hiked the mountains overlooking Beagle Channel, and Simons found himself engrossed in Darwin's account. Like Simons, Darwin was in his mid-twenties when he traveled to the continent, having joined a five-year expedition designed to survey and map the coastline of South America, to serve as the expedition's naturalist. After returning home, Simons found himself compelled to return to South America and follow Darwin further, not just to stand where Darwin had, but to explore the histories, legends and people that had fascinated Darwin.
Struck by how much Darwin's enthusiasm, sense of wonder and adventure, even occasional boredom sounded like the attitudes of Simons' own 20-something traveling companions, Simons would visit as many of the locations Darwin wrote about as he could, to see if he could see these places through Darwin's eyes, to access Darwin the young adventurer in the most immediate way possible, to see how much the places Darwin explored might have changed – or not – since Darwin's journey (perhaps to learn from Darwin what we might be losing), to see whether and what South Americans knew about Darwin, and so to "peer into the cultural identity of the continent's most enduring places." Simons turned his journey into the life of Darwin into his first book, Darwin Slept Here.
Simons is a 2008 graduate of the environmental and science writing program at UC Berkeley Graduate School of Journalism, where he studied with Russ Rymer, Michael Pollan and Cynthia Gorney. As a freelance writer his work has been published in San Francisco magazine, California magazine, Mother Jones, The LA Times, Sierra magazine and Canoe & Kayak, among others.
Topics
Darwin Slept Here