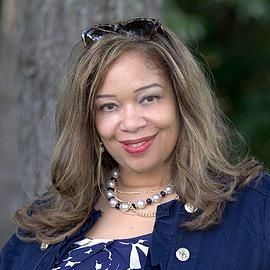 Erica Collins
Host Blog Talk Radio's Enterprise, Author, Speaker, Media & Public Relations Consultant, Plus Model/Actress, for. Miss Plus America, fmr. Miss New York Plus America
Media Talent Erica Collins is the Executive Producer and Host of "America's Enterprise" TV/Cable Streaming and Blog Talk Radio's Enterprise http://blogtalkradio.com/enterprise BTR's Enterprise is a unique show about business and the entrepreneurial spirit. Erica Collins is a dynamic personality who has worked for several media companies including Business Week Online, HBO/Time Warner, MSNBC, Fox News Channel and the U.S. Chamber of Commerce Broadcast shows "It's Your Business" and the "Quality Learning Series". Erica was awarded the honor to train and work at the U.S. Capitol House and Senate Radio/TV Press Galleries. She has covered local, national and international news, entertainment, business and sports.
Erica speaks and bridges the gaps of the generations from print and broadcast to the Internet and the explosion of the "Dot Com" era of New Media to the transitions for Blogs, Apps and Social Media. Erica serves on the Board of Advisors for Canada Enterprises. She was a Media and Public Relations Consultant with the success of launching a national media campaign for Canada Enterprises and Jin+Ja serving as speaker for the Rutgers University Food and Innovation Center in NJ.
Erica is President of E.C. and Associates, L.L.C. and wears several hats which include a few crowns as a former Beauty Queen, Plus Size Model and Actress.
Plus Size Model and Spokesperson The Plus Model and Fashionista has a new online shopping experience highlighting her favorites with a focus on the diversity in size, style and culture of the America Woman at "I Am-Erica" http://I-Am-Erica.com
Erica has been a plus model for over 20 years; modeling for Macy's, Bloomingdale's, Liz Claiborne (Elisabeth), Boscov's, Fashion Bug, Cargo Magazine; Strutted the runway for the Dangerous Curves Tour on Broadway supporting Girls; taught classes and spoke at seminars on "Empowering Your Curves" in NYC; served on the Board of Advisors and Spokesperson for Fashion to Figure. Fashion To Figure was founded by the great-grandsons of Mrs. Lena H. Bryant, the visionary dressmaker and businesswoman widely recognized as having invented the maternity dress and credited with creating the full-fashion or plus size market more than 100 years ago aka Lane Bryant Clothing Stores. Erica was selected as a brand ambassador/ promotional model for Just My Size Secrets Intimates Apparel Tour, a division of the Sara Lee Corporation. She was a semi finalist for a Plus Model Magazine and Model of the Month for Venus Divas; wrote a workbook called the Plus Size Model's little instruction book "Getting Started" Volume I at http://www.llumina.com/store/plusmodels.htm
Beauty Queen and Philanthropist Erica was crowned Miss Plus America Ambassador, fmr. Miss Plus America, Miss Plus America Spokes Model, fmr. Miss Plus NYC; Erica was nominated for Who's Who in American Women 2007.. Featured on the Insider entertainment news show. Nominated and Selected for Who's Who in America 60th Diamond Edition . Voted from the Board of Advisors to the Board of Directors of Image and Attitude, Inc in New Jersey, which is a division/member of one of her platforms The Women's Alliance Organization: A Bridge to Opportunity and Independence which is a national organization of independent community-based members who provide professional attire, career skills training and related services to low-income women seeking employment as well as men and disadvantaged teens. She spoke to women at their New York headquarters about careers in Plus Size Modeling. Erica lectured young girls in Harlem, NY on self-esteem and careers for the New York City Mission Society and the Lady Roc/Team Roc program entitled Set It Off sponsored by Damon Dash and Roc-A Fella Records. Erica's other platforms included the WHO Foundation Women Helping Others. Its mission is to support grass-roots charities serving the overlooked needs of women and children throughout the nation. She believes that everyone can make a difference in their communities. The Mayor of Cherry Hill Township of Cherry Hill, NJ in conjunction with the Cherry Hill Minorities Civic Association proclaimed "Erica Collins Day" on May 15, 2004. http://www.plusshe.com/2004/08/interview-miss-plus-america-2004-erica-collins/
Actress, the Arts and Poetry Erica minored in Theater/Dance and studied at TVI studios becoming and actress. While working as an actress on the set for Stepford Wives a Paramount movie, she received a SAG wavier.
Prior to professional acting, Erica became a speaker by the Board of Directors for the National Foundation for Advancement in the Arts in conjunction with the New Jersey Chamber of Commerce Outreach Program for New Jersey Schools while working at the U.S. Chamber of Commerce Broadcast Studios. She promoted arts programs at the Kennedy Center in Washington, D.C.
Erica has been published three times in the National Library of Poetry anthologies and has received three editor's choice awards including a special publication. She was inducted into the International Society of Poets and was nominated for Distinguished Membership.
Educator Erica worked towards a Masters in Education and is a graduate of the George Washington University in Washington, D.C. where she was instrumental in establishing a graduate level course entitled "Jackie Robinson: Race, Sports and the American Dream with Dr. Richard Zamoff at the George Washington University. To welcome the new course, Erica coordinated and served on an alumni panel recruiting former professional athletes and corporate supporters. The course has inspired students to start the Jackie Robinson Society. The project has grown into a symposium awarding members of the Washington, D.C. community and beyond representing the legacy of Jackie Robinson. Acknowledged for her work here: https://www.youtube.com/watch?v=5BeEAM3vHYY
Videos
---
Speech Topics
---
Positive Body Image, Health and Wellness, Media, Social Media Gen X, Self-Esteem, Self-Acceptance, Lifestyle, Blogging, Entrepreneurship, Specialty Foods, Food and Drink, African Americans and Diversity, Women and Minorities,
News
---
Related Speakers View all
---
Sheila C. Johnson

Entrepreneur, CEO of Salamander Hotels and Resorts, ...

Montel Williams

Emmy Award-Winning Talk Show Host Best Known For "Th...

Iyanla Vanzant

Host & Executive Producer of "Iyanla Fix My Life"; #...

Bertice Berry

Sociologist, Author and Educator

Liz Nead

Executive Business & Life Coach

Oprah Winfrey

CEO of Oprah Winfrey Network, Presidential Medal of ...

Tracee Ellis Ross

Actress & Youth Volunteer, Star of "Black-ish"

Star Jones

Former Co-Host of "The View", Social Justice & Heart...

Dominique Dawes

Olympic Gold Medal-Winning Gymnast, Former Co-Chair ...

Catherine Crier

Acclaimed Author, Former Judge, Award-Winning Journa...

Debbie Allen

Creative Marketing Expert & Business Speaker

Tukufu Zuberi

Expert on Race Relations; Host, "PBS History Detecti...

Jurnee Smollett

Actress & Singer

I Am Tasha Jones

The virtual introduction, I AM TASHA JONES .COM lend...

C. Vivian Stringer

Women's Basketball Coach

Malaak Compton

Activist & Philanthropist

Alfre Woodard

Emmy Award-Winning Actress; Human Rights Activist

Dave Winfield

National Baseball Hall of Famer & 12-Time MLB All-St...

Tavis Smiley

Broadcaster, Author, Publisher, Advocate, and Philan...

Russell Simmons

Entrepreneur & Philanthropist
More like Erica