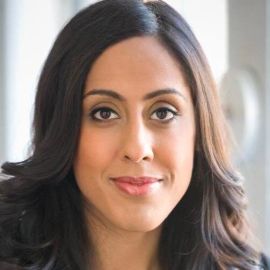 Erica Dhawan
World's Foremost Expert on Connectional Intelligence; Founder and CEO of Cotential, a Global Consultancy; Co-Author of Bestselling Book, "Get Big Things Done"
Erica Dhawan is the Founder & CEO of Cotential, a global consultancy that accelerates the connectedness of employees teams, customers and clients. Through keynote speaking, training and consulting, she teaches business leaders and companies innovative strategies to create increasing value for customers and clients, deliver sustainable results and ensure future global competitiveness.
Dhawan is the co-author of the forthcoming book Get Big Things Done: The Power of Connectional Intelligence (Macmillan, Feb 24, 2015). Erica speaks on global stages ranging from the World Economic Forum at Davos to companies such as Fedex, Pepsico, and McGraw Hill Financial. Erica writes for Harvard Business Review, Forbes, Fast Company and the Huffington Post. She serves as a board member to Deloitte's Inclusion External Advisory Council.
She is a member of the Young Entrepreneur Council, Aspen Institute Socrates Society, TEDx fellows, and World Economic Forum Global Shapers. Previously, she worked at Lehman Brothers and Barclays Capital. She has a MPA from Harvard University, a MBA from MIT Sloan, and a BS in Economics from The Wharton School.
Speech Topics
---
INFORMAL INFLUENCE: LEADING BEYOND YOUR OWN TEAM
Breakthrough business silo friction, drive innovation, shift company culture and transform the untapped connectional intelligence of your entire workforce.
The modern workplace has become excessively complicated and we pay the price with unnecessary emails, phone calls and meetings. Organizations are stronger with cross functional collaborative teams, yet they deal with massive constraints, leading to endless dysfunction and delays.
Why do some organizations deliver high performance and others not? The answer is by learning to drive informal influence beyond your team to drive innovation, value, and performance.
In this dynamic, engaging, high-energy, fast-paced keynote, Erica Dhawan shares insights into how leaders can leverage informal influence to drive change and utilize the talents that different silos, cultures, and generations all bring to the table. This is a powerful, interactive presentation for leaders who seek to breakthrough friction, drive innovation, shift company culture and transform the untapped connectional intelligence of your entire workforce.
Learning Outcomes include:
Insights to deliver game changing influence to reduce complexity and inefficiency
Actionable tools and prescriptive solutions to maximize cross-silo team engagement and performance
Tools to enhance individual and team effectiveness, achieving growth and maximizing business value
Digital Body Language: How to Build Trust and Connection, No Matter the Distance
When your colleague replies "fine!" are they actually fine… or are they angry? Do you wait hours to get clarification on a vague e-mail? Did that weekend text message from your boss irritate you? We are collaborating faster and more often than ever before. We feel like we're connected – but are we really? We rely on body language and tone to grasp the real meaning. With our digital walls up, we lose subtext and nuance.
Whether your team works on separate floors, buildings, homes or even countries, we have to connect differently in order to collaborate. New misunderstandings are happening all day, every day. They're reducing your employee engagement, morale, and team performance each time. In this keynote, you will learn how to master Digital Body Language, the new cues and signals that make up the subtext of our messages, led by collaboration expert Erica Dhawan.
Outcomes: Understand your collaboration style and what digital body language signals you are broadcasting (even if you don't intend to!) Understand how to create cultures of maniacal clarity in email, phone, IM, text, video mediums and even live meetings in the new normal Develop a collaboration strategy to create the highest performing teams
Get Big Things Done: The Power of Connectional Intelligence
We live in a world of endless meetings and emails and constant cross-team dysfunction, duplication and delays. Our collaboration skills aren't working to unlock better value in our business. The world's leading collaboration expert Erica Dhawan argues that the game changer is a thoroughly modern skill called Connectional Intelligence (CxQ). As radical a concept as Emotional Intelligence was in the 90s, Connectional Intelligence is turning people into superconnectors who accelerate innovation, break down silos and foster breakthrough top and bottom line impact in the 21st century workplace, no matter the distance.
Outcomes: Learn successful tactics to address communication overload and create authentic digital relationships Discover how to break down silos and keep teams aligned, accountable, and motivated without in-person meetings Gain specific actions to foster loyalty, respect, collaboration and innovation across all stakeholder networks regardless of physical distance
Related Speakers View all
---
Richard Florida

Leading Urbanist, Economist & Author of "The Rise of...

Jacqueline Novogratz

Founder & CEO of Acumen Fund

Gary Hamel

Internationally Renowned Expert on Business Strategy...

Dr. Jackie Freiberg

Corporate Culture & Leadership Strategist, Best-Sell...

Sallie Krawcheck

Founder & CEO of Ellevest, Leadership Expert, Author...

Geoffrey Moore

Managing Director, Geoffrey Moore Consulting; Ventur...

Patrick Lencioni

Management Consultant; Founder & President of The Ta...

Geoff Colvin

Editor & Columnist at Fortune Magazine; Author of "H...

Sir Richard Branson

Businessman, Founder of Virgin Group

Peter Diamandis

Founder & Executive Chairman of the XPRIZE Foundatio...

Marla Blow

Senior Vice President of Mastercard Center for Inclu...

Shirin Behzadi

CEO of Home Franchise Concepts & Brain Cancer Survivor

Amy Jo Martin

New York Times Bestselling Author, Founder of Digita...

Sabine Heller

CEO of invitation only social community ASMALLWORLD...

Linda Descano

President and CEO of Women & Co.; Managing Director ...

Nancy T. Nguyen

Hit-and-Run Survivor; Crowned 2011 Miss Corporate Am...

Peter Guber

Executive, Entrepreneur & #1 NYT Bestselling Author,...

R "Ray" Wang

Founder, Chairman & Principal Analyst at Constellati...

Wendy Kopp

CEO of Teach For All & Founder of Teach For America...

Chip Conley

Strategic Advisor for Hospitality & Leadership at Ai...
More like Erica