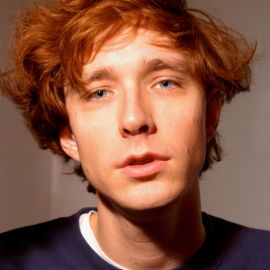 Erlend Oye
Erlend Øye is a Norwegian musician from Bergen, best known for being part of the indie folk duo Kings of Convenience together with Eirik Glambek Bøe.
He has released one solo album, Unrest, in 2003 and a mix-CD in the DJ-Kicks series in 2004.
He was born on 21 November 1975 in Bergen and formed the band Skog together with some friends in the mid-1990s. He joined the band Peachfuzz in 1996 as electric guitarist, and played several times in London between 1996-98.
Øye moved to London in 1998 and then to Manchester for the first half of 1999. When he was back home in Bergen for vacations he jammed with Bøe. They formed Kings of Convenience in 1998 and released their first album, Quiet is the New Loud in 2001.
Øye had become interested in electronic music and spent the next years in Berlin (Nov 2002-06) or travelling around the world, recording his solo album Unrest in ten different cities (including Barcelona, Helsinki, Rome, and Turku) with ten different electronica artists such as Morgan Geist, Prefuse 73, and Schneider TM.
He has toured as a DJ who sings along with the records that he plays, and in 2004 he released a remix CD in the DJ Kicks series. The album featured covers and remixes of "Always on My Mind", "It's a Fine Day" (made famous by Opus III), Cornelius, and his own songs. That year also saw the next release by Kings of Convenience.
Erlend Øye's most recent project is the band The Whitest Boy Alive. The band originally started as an electronic band, but slowly developed into a band with no programmed elements. Erlend sings and plays guitar.
The Whitest Boy Alive released the single "Burning" on 24 May 2006. Their debut album, Dreams, was released on 21 June 2006, via their record label Bubbles. The latest album of The Whitest Boy Alive called "Rules" was released on 27 February 2009.
Erlend currently lives in Bergen when not touring with The Whitest Boy Alive or Kings Of Convenience. He is involved in the Bergen music scene and spends time promoting local bands, and assists with booking at the annual Træna Festival in northern Norway.
In 2011 Øye produced the album "Hest" by fellow Bergen band Kakkmaddafakka.
On August 1, Øye announces new album, entitled "La Prima Estate."
He's an honorary citizen of the city of Syracuse, in Sicily. On April 1, 2012, during a small concert organized in a vernissage in Ortigia, has publicly stated that he had bought a house in the city of Siracusa and have intention of living there with her mother.
Erlend announced a new album called "La Prima Estate", inspired on his time living in Italy.
He released the album's first single, "La Prima Estate", sung in italian on July 2013. The single's music video was released on 9 August 2013.
Videos
---