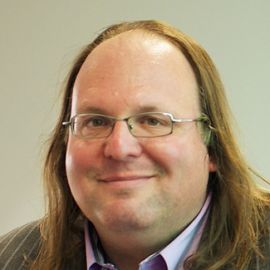 Ethan Zuckerman
Professor, MIT; Author; Director, MIT Center for Civic Media; Co-Founder, Global Voices
Ethan Zuckerman is an activist and scholar whose work focuses on the global blogosphere, free expression and social translation in the developing world. He is the director of the MIT Center for Civic Media. He teaches at MIT's Media Lab and MIT's Comparative Media Studies and Writing program, where he is the associate professor of the practice. He is also the author of "Rewire: Digital Cosmopolitans in the Age of Connection."
Prior to joining MIT, Zuckerman was a longtime fellow at Harvard University's Berkman Center for Internet and Society where he focused his research on the impact of technology on the developing world. His projects included a study of global media attention, research on the use of weblogs and other social software in the developing world, and the use of web 2.0 technologies by activists.
With Rebecca MacKinnon, Zuckerman co-founded the international blogging community Global Voices. It showcases news and opinions from citizen media in more than 150 nations and 30 languages, publishing editions in 20 languages. Through Global Voices and through the Berkman Center for Internet and Society at Harvard University, where he served as a researcher and fellow for eight years, Zuckerman is active in efforts to promote freedom of expression and fight censorship in online spaces.
In 2000, Zuckerman founded Geekcorps, a technology volunteer organization that sends IT specialists to work on projects in developing nations, with a focus on West Africa. Previously, he helped found Tripod.com, one of the web's first "personal publishing" sites. Zuckerman was given the 2002 Technology in Service of Humanity Award by MIT's Technology Review Magazine and named to the TR100, TR's list of innovators under the age of 35. In 2004, he was named a Global Leader for Tomorrow by the World Economic Forum.
Zuckerman received his bachelor's degree from Williams College, and as a Fulbright scholar, studied at the University of Ghana at Legon. He lives in the Berkshire Mountains of western Massachusetts with his wife Rachel, and serves on the boards of regional and international organizations that focus on technology and education, including on the sub-boards of the Open Society Institute's Information Program and US Program.
Speech Topics
---
Ethan Zuckerman Acclaimed Digital Media Expert; Author; Director, MIT Center for Civic Media; Co-Founder, Global Voices Inquire About This Speaker Big Ideas Read Less Print This Page Share This Page Rewire: Digital Cosmopolitans in the Age of Connection
We live in an age of connection, one that is accelerated by the Internet. This increasingly ubiquitous, immensely powerful technology often leads us to assume that as the number of people online grows, it inevitably leads to a smaller, more cosmopolitan world. We'll understand more, we think. We'll know more. We'll engage more and share more with people from other cultures. In reality, it is easier to ship bottles of water from Fiji to Atlanta than it is to get news from Tokyo to New York.
In this talk, media scholar and activist Ethan Zuckerman explains why the technological ability to communicate with someone does not inevitably lead to increased human connection. At the most basic level, our human tendency to "flock together" means that most of our interactions, online or off, are with a small set of people with whom we have much in common. In examining this fundamental tendency, Zuckerman draws on his own work as well as the latest research in psychology and sociology to consider technology's role in disconnecting ourselves from the rest of the world.
For those who seek a wider picture—one of cognitive diversity—Zuckerman highlights the headway already made, in truly connecting people across cultures. From voracious xenophiles eager to explore other countries to bridge figures who are able to connect one culture to another, people are at the center of his vision for a true kind of cosmopolitanism. And it is people who will shape a new approach to existing technologies, and perhaps invent some new ones, that embrace translation, cross-cultural inspiration, and the search for new, serendipitous experiences.
Rich with Zuckerman's personal experience and wisdom, this presentation offers a map of the social, technical, and policy innovations needed to more tightly connect the world.
The Next Billion
In the next five years, a billion people will log onto the Internet for the first time. They're from Nigeria, China, India, Brazil, and they're building the content of the new 'net, posting photos, videos, and blogs. What are the opportunities and threats of this increasingly polyglot, multicultural, global network, and how can people from developed nations navigate this emerging new world?
The World is Talking. Who's Listening?
Citizen media is changing the world of journalism, turning the news from a lecture into a conversation. In some nations, this conversation is challenging government monopolies on information and creating debates on taboo issues in the absence of a free press. With individuals around the world raising their voices, how is mainstream media amplifying - or silencing - new voices? How will these voices challenge how we think about globalization, democratization, environmentalism and other multinational issues?
The Internet is NOT Flat
Ten years ago, 70 million people used the internet. There are more than 1.2 billion people online today, and that number is still growing. As projects like One Laptop Per Child come to fruition, we can imagine a future where it's possible to talk to almost anyone, anywhere in the world.
Which raises a question: what will we say to one another?
Ethan Zuckerman offers a tour of the globalized internet, looking at ways in which Internet users around the world are connecting with one another... and frequently misunderstanding each other. Along the way, we meet Nigerian spammers, Saudi feminists, Tunisian mapmakers, and Chinese gold-farmers, as well as the tools and guides necessary to navigate this growing new world.
Activists as Lead Users
Lead users push tools in directions their manufacturers never intended, finding innovative uses to solve their unique problems. Activists are lead users in the Web 2.0 space, using tools intended for sharing photos and organizing parties to lead street protests and expose dictators. The tools of Web 2.0, while designed for mundane uses, can be extremely powerful in the hands of digital activists, especially those in environments where free speech is limited.