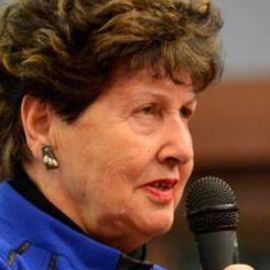 Eva Lavi
The Youngest Schindler's List Survivor
Eva Lavi's earliest memories are of the Holocaust.
She remembers how her mother made her hide outside in below-zero weather, clutching a standing pipe, as Nazis searched her home in Poland. She remembers her father telling her to swallow a spoonful of cyanide — better than death at the hands of the Nazis — only to have her mother object at the last minute. She remembers seeing her twin cousins shot to death as they ran up a hill at a labor camp.
Lavi was 2 years old when Nazi Germany took over her hometown of Krakow in September 1939. Now 80, she wants to make sure her stories aren't lost after she's gone.
Lavi is the youngest survivor to have been on Schindler's list, the Jews saved by German industrialist Oskar Schindler and immortalized in Steven Spielberg's 1993 film. Lavi was put in a ghetto in Poland with her family immediately after the Nazi takeover, transferred to a labor camp and then to Auschwitz.
After being saved by Schindler, who sheltered hundreds of Jews who worked in his kitchen goods and armament factories, Lavi lived a quiet life in Israel. She served in the army, lived on a kibbutz, worked as an administrative assistant and raised a family. She remembers the early years in Israel when survivors were disparaged as weak and passive. But as interest in the Holocaust increased, she became more vocal in recounting her experience. Now she speaks to groups at Yad Vashem, the Israeli Holocaust authority, and travels to Poland every year with a group of high school students.
Lavi also feels a sense of urgency in telling her story because she thinks the world hasn't gotten better since she was liberated. There are groups that still seek to annihilate Jews and other minorities, she says.
As the Holocaust survivor population shrinks — Lavi was born just two years before the war — she sounds conflicted about how best to perpetuate Holocaust memory. On the one hand, she acknowledges that survivors' stories are extensively documented. On the other hand, she knows nothing is more powerful than a firsthand account.
One way to transmit the experience, she says, is movies. She's grateful for the research work that Spielberg did while making "Schindler's List," which won the Academy Award for best picture. One scene featuring her as a child, she says, is mostly accurate: Nazis separated her from her mother, but Schindler saved her by telling the guards he needed her small fingers to operate machinery. She believes that movie and those that have followed play a positive role in educating people about what happened — even if some are fictional.
After decades of telling her story around the world, Lavi says addressing the United Nations gave her a sense of closure. For years she has carried guilt for surviving where so many perished. But with this speech, she said, she achieved something to justify her life.
Videos
---
Related Speakers View all
---
Chella Man

Transgender Model, Activist & Artist

Sheryl WuDunn

Pulitzer Prize-Winning Journalist; Co-author of Half...

Jackson Katz

Anti-Gender Violence Activist, Author

Jonathan Kozol

Educator & Social Justice Advocate

Erin Gruwell

Founder & Executive Director of the Freedom Writers ...

Jonah Edelman

Advocate for Public Education, CEO of Stand for Chil...

Geoffrey Canada

Inner-City Youth & Education Advocate

Allyson Kapin

Founder of Women Who Tech; Founder of web agency Rad...

Alex Newell

Actor & Singer Known for "Glee"

Kathy LeMay

Founder, President & CEO of Raising Change

Somaly Mam

Survivor & Anti-Sex Slavery Activist

Jared Cohen

President, Jigsaw (previously Google Ideas) & Chief ...

Marlee Matlin

Academy Award Winning Actress & Advocate for the Dea...

Gabrielle Union

Actress, Voice Artist, Activist, Author

Tracee Ellis Ross

Actress & Youth Volunteer, Star of "Black-ish"

Common

Award-Winning Artist, Actor, Producer, Musician & Wr...

Brenda Combs

Inspirational Educator & Survivor; Founder of Findin...

Dr. Crystal Kuykendall

Dr. Crystal Arlene Kuykendall is considered one of t...

Montel Williams

Emmy Award-Winning Talk Show Host Best Known For "Th...

Kathleen Kennedy Townsend

Maryland's 1st Female Lt. Governor
More like Eva