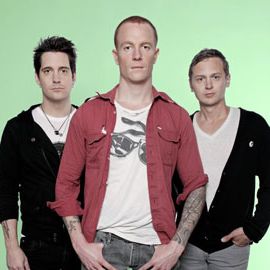 Eve 6 is an alternative rock band which formed in 1995 in La Crescenta, California, United States. The band split in 2004 and reunited in October, 2007, signing with Fearless Records and releasing new album Speak In Code in April 2012. The band consists of Max Collins (vocals, bass), Jon Siebels (guitar, vocals) and Tony Fagenson (drums).
The band had previously released three albums, "Eve 6" (1998), "Horrorscope" (2000) and "It's All in Your Head (2003), with a fourth due in 2011. Two of the band's singles, "Inside Out" and "Here's To The Night", reached the Top 40 in the United States.
Reunited and re-energized, the band is returning with new album Speak In Code eight years after parting ways in 2004. As the fourth full-length release for Eve 6 and their debut on new label Fearless Records, the album heralds not just a return to form for the threesome, but a new chapter in a book that had ended all too abruptly.
"Overall I'm really proud of it, and I think we're doing right by our fans, who've waited a long time for us to make another record. I think we're giving them something they'll enjoy," says singer/bassist Max Collins. "Once we got in the studio there was a lot of energy. There aren't any filler moments; each song has its purpose. This is the strongest collection of songs we've ever had on one record."
In many ways, Speak In Code is a work with deep personal significance for Collins, who has weathered his share of personal adversity.
Videos
---
Related Speakers View all
---
Collective Soul

Multi-Platinum Alt-Rock Band, Known for "Shine"

Better Than Ezra

Alternative Rock Trio; Known for "Good" and "Despera...

Third Eye Blind

Popular Alternative Rock Band

Uncle Kracker

Rock Musician; Known for the Smash Hits "Follow Me" ...

Sugar Ray

American Band Known for "Fly," "Every Morning" and "...

ZOX

It's so cool to see how far Zox Straps has come even...

Zebrahead

Zebrahead spent summer 2006 on the Warped Tour while...

WOMEN

Women haven't always had an easy time achieving grea...

Wolf Parade

It's the name of Wolf Parade's third LP, out June 29...

Willy Mason

Willy Mason (born November 21, 1984) is an American ...

Ween

Ween is an American experimental rock group formed i...

We Were Promised Jetpacks

Scottish Indie Rock Band Known for Singles Like "Qui...

The Wallflowers

American Rock Band

VHS or BETA

VHS or Beta is a house/disco band that infuses eleme...

The Whigs

With their new album Enjoy The Company, The Whigs ha...

The Virgins

The Virgins are an American band formed in 2006 in N...

The Stills

The Stills only bore scant similarities to Interpol,...

The Soft Pack

For a band whose lineup has only really been cemente...

The Honey Brothers

The Honey Brothers like to tell people they formed o...

The Gracious Few

"It was a wonderful moment," says The Gracious Few's...
More like Eve