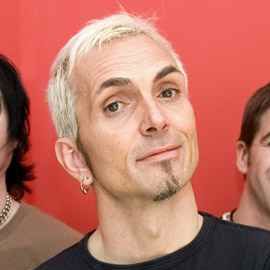 Everclear is a rock band formed in Portland, Oregon in 1992 best known for their radio hits spanning more than a decade. For most of its existence, Everclear has consisted of Art Alexakis (vocals and guitar), Craig Montoya (bass guitar and vocals) and Greg Eklund (drums, percussion and vocals). Eklund replaced original drummer Scott Cuthbert in 1994. Montoya and Eklund departed the band in 2003, but Alexakis continued the band with Dave "Davey" French (guitar), Josh Crawley (keyboards), Sam Hudson (bass guitar) and Tommy Stewart (drums, percussion). However all members except for Alexakis left the band in July 2009 to be replaced with a third lineup of Everclear.
Everclear began by recording in a friend's basement, essentially bartering for recording time with musical gear and whatever limited funds they could scrounge up. The sessions culminated in two releases, the "Nervous and Weird" EP and the band's first full-length release, "World of Noise," both released by Portland's Tim/Kerr Records in 1993.
In May 1995, the band released their first album for Capitol Records, "Sparkle and Fade." The album's lead single, "Heroin Girl," performed well on college radio but did not gain significant mainstream airplay. That would be granted to their follow up single, "Santa Monica," which effectively put Everclear on the map. The album subsequently was certified platinum.
"So Much for the Afterglow," released in 1997, contained the singles "Everything to Everyone," "I Will Buy You a New Life," "Father of Mine" and "One Hit Wonder." It provided Everclear with their only Grammy nomination to date, a Best Rock Instrumental nod in 1998 for "El Distorto de Melodica." Though "Afterglow" never charted higher than #33 on the Billboard 200 Albums chart, the album reached double-platinum status at the end of the year and remains Everclear's bestselling album with over two million copies sold.
In 2000 they released, "Songs from an American Movie, Vol. 1: Learning How to Smile," which was the band's second highest selling album with over one million copies sold. It is also the band's only album to debut in the Top 10 of the Billboard 200. That year they also released, "Songs from an American Movie, Vol. 2: Good Time for a Bad Attitude," which debuted at #66 on the Billboard 200.
"Slow Motion Daydream" was issued in 2003. The first single released to radio was, "Volvo Driving Soccer Mom," followed by second single, "The New York Times." This was the last album of new material to feature long time members Craig Montoya and Greg Eklund who left the band later in August of that year.
2006's "Welcome to the Drama Club" followed on Eleven Seven Music. It was the first album to include the new line-up of Everclear. It was also the first album since Everclear's departure from Capitol Records.
"In a Different Light" was released in 2009 and was the band's first album with 429 Records. The album was a collection of older Everclear songs from previous albums performed in a more stripped down and acoustic fashion.
Their eighth studio album, "Invisible Stars," was issued by E1 Music in 2012. It was the band's first release of original material in six years. The album debuted at #119 on the Billboard 200.
Videos
---