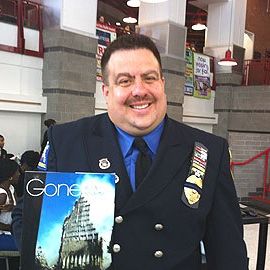 Fabrizio Bivona
First Responder on September 11, 2001 & Author of "Gone But Not Forgotten"
Fabrizio Bivona is a first responder whose training and career spans the spectrum of emergency services. A Domestic and International Disaster Response Team member, Bivona responded on 9/11, contributing to the initial rescue and subsequent victim recovery efforts.
He started as EMT on a volunteer ambulance then started working as a member of the Paterson Fire Department. He went for two years of additional training to become a certified paramedic for more than 27 years. During this carreer, Bivona became a registered nurse specializing in critical care treatment of pediatrics, neonatal and adult patients. This training was useful during his volunteer service on medical and disaster response missions to third world countries like Honduras, Nicaragua, Guatemala, El Salvador and Mexico.
Bivona completed Firefighter training and successfully graduated from the Police Academy and holds the certifications as a firefighter and a police officer. This additionally training lead and enabled Bivona to become a member of the elite Emergency Services Units, Swat Teams, and specialized counterterrorism teams for the New York and New Jersey and Pennsylvania areas.
Bivonas educational background and experience served as the foundation as an educator and speaker for counterterrorism and emergency preparedness training. His unique background lay the groundwork as a writer, for first responders and emergency personnel, with such publishing firms as the prestigious Elsevier Publishers. Bivona also authored a book titled "Gone But Not Forgotten," which is dedicated to the heroes who served at Ground Zero, on 9/11/01. Among those heroes are two of Bivona's partners and many other friends and coworkers.
Bivona continues to work full time as a first responder. He also donates his time and volunteers his services with several charitable organizations such as Wounded Warriors, Walter Reed Hospital, Gear-Up foundation, and several other 9/11 charities.
Related Speakers View all
---
Earl Johnson

Author of "Stairwell to Heaven"

Oren Cass

Executive Director of American Compass

Candace Owens

Political Activist, Conservative Commentator & Found...

Lawrence B. Jones III

Conservative Commentator and Editor-in-Chief, Campus...

Rob Long

Writer, TV Producer, and Author; Screenwriter for Lo...

Katie Pavlich

Conservative Commentator, Author & Journalist

Marc Thiessen

Former Chief Speechwriter to George W. Bush; Conserv...

Monica Crowley

Assistant Secretary of the Treasury for Public Affai...

Joseph Phillips

Actor, Columnist & Conservative Christian Commentator

Buzz Patterson

Author & Conservative Speaker; Former Senior Militar...

Kate Obenshain

Motivational Speaker, Author, Defender of Conservati...

Jason Mattera

Emmy-Nominated Journalist, Conservative Activist & A...

Doug Giles

Conservative Columnist, Political Commentator & Auth...

Humberto Fontova

Cuban-American Author, Political Commentator & Conse...

Dan Flynn

Author, Columnist, & Senior Editor of "The American ...

Robert Spencer

Expert on Islam & Director of JihadWatch

Jed Babbin

Military & Foreign Affairs Analyst, Former Deputy Un...

Dr. Gianni DeVincenti Hayes

- Author of 20 published book - 30 years speaking e...

Bill O'Reilly

Host of "The O'Reilly Factor," Best-Selling Author &...

Larry Schweikart

Former Rock Drummer, Historian, Film Producer & Co-A...
More like Fabrizio