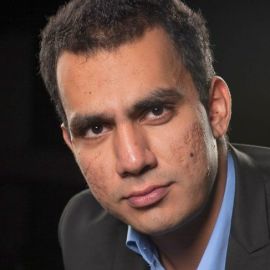 Faisal Saeed Al-Mutar is an Iraqi born writer and activist living currently in the United States. He is an advocate for freedom of thought, science, reason and the free market economy.
Al-Mutar is the founder of the Global Secular Humanist and Secular Post. He is an advocate for freedom of thought, science, reason and the free market of ideas and economy.
Faisal has written many different publications including National Post, Big Think, Richard Dawkins Foundation, Secular World and many others. Faisal on the Speakers list of Center of Inquiry and Secular Student Alliance in the United States.
Videos
---
Speech Topics
---
Global Secular Humanist Movement and Secular Post.
Future Goals for Humanism and Atheism globally.
Atheism in Iraq and The Middleeast.
Teaching of Islam in Public Schools.
The Religious Civil War in Iraq, Syria and Lebanon.
Consequences of being an Atheist in the Middleeast.
The importance of Separation of church and state.
The importance of Scientific Inquiry.
Advantages and disadvantages of Globalization
The social uses of technology.
U.S foreign policy in the Middleeast.
Economic development in Iraq after U.S intervention.
Individualism and the importance of thinking for yourself.
News
---
Related Speakers View all
---
Parag Khanna

Leading Geo-Strategist & Author

Harvey Mansfield

Political Philosopher, Author & Distinguished Professor

Slavoj Žižek

Philosopher & International Director of the Birkbeck...

Dr. Anthony Fauci

Director, National Institute of Allergy and Infectio...

Moby

Musician, DJ, Photographer

Sebastian Copeland

Adventurer, Environmental Activist, Award-Winning Ph...

Mitt Romney

Former Governor of Massachusetts, 2012 Republican Pr...

Nelson George

Author / Filmmaker

Shirley Tilghman

Molecular Biologist; Pres., Princeton University

Kenneth Roth

Executive Director, Human Rights Watch

Adam Bly

Ex-VP of Data at Spotify; Founder of Seed; Founder o...

Ingrid Newkirk

President, PETA

David Life

Yoga Master; Co-Founder, Jivamukti Yoga

Michael Walzer

Professor Emeritus, The Institute for Advanced Study

Satoshi Kanazawa

Evolutionary Psychologist and Intelligence Researche...

Steven Mazie

Associate Professor of Political Studies, Bard High ...

An Phung

Multimedia Journalist

Brian Hoffstein

Contributing Writer

Cody Adams

Managing Editor of The Floating University.

Jeffrey Israel

Jeffrey Israel has taught religion and political phi...
More like Faisal