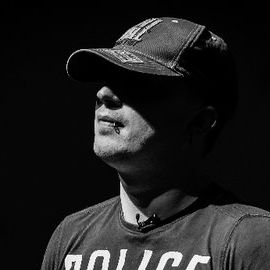 FC is a well-known ethical hacker and social engineer. He has been working in the information security field for over 20 years and excels at circumventing access controls. He has held positions in his career such as Senior Penetration Tester as well as Head of Social Engineering and Physical Assessments for renowned security companies. Having worked as Head of Cyber Research for Raytheon Missile Systems, and working closely alongside intelligence agencies, he has cemented both his skillset and knowledge as well as help to steer governments take correct courses of action against national threats.
As an ethical hacker and social engineer, FC 'breaks into' hundreds of banks, offices and government facilities in the UK and Europe. His work demonstrating weaknesses in physical, personnel and digital controls assists organisations to improve their security. He is motivated by a drive to make individuals, organisations and countries more secure and better-able to defend themselves from malicious attack.
Now Co-Founder and Head of Ethical Hacking at Redacted Firm, he continues to perform valuable research into vulnerabilities. His client list involves major high-street banks in the UK and Europe, FTSE100 companies and multiple government agencies and security forces.
He also co-founded the Surrey and Hampshire Hackspace as well as Defcon 441452 (Gloucester) hacker group. He has co-hosted many podcasts, been featured in the press and regularly writes articles for journals and blogs. FC and his partner Dr Jessica Barker have been announced as Guest Curators of the 2018 Cheltenham Science Festival.
FC frequently gives talks at corporate events, security conferences, universities and schools around the world. He specialises in teaching people of all ages and abilities the art of security in an engaging and impactful way. He demystifies security with his expertise, humour and passion.
Videos
---
Related Speakers View all
---
Pablos Holman

Technology Futurist, Inventor, World-Renowned Hacker...

Ben Wizner

Legal Advisor to NSA Whistleblower, Edward Snowden; ...

Keren Elazari

Cyber Security Analyst, Author & Senior Researcher a...

Bryan Seely

Former U.S. Marine, Cyber Security Expert & Author o...

Scott Augenbaum

Retired FBI Agent & Expert in Cyber Security

Dr. Eric Cole

Technology Visionary, Author, Security Expert, Found...

Brian Krebs

Leading Cybercrime Journalist & New York Times Bests...

Dave Kennedy

Founder of Binary Defense & TrustedSec

Eric O'Neill

Cyber-Security Expert & Former FBI Counter-Terrorism...

Andrew Fastow

Former CFO of Enron; Expert Keynote Speaker on Finan...

Charlie Miller

American Computer Security Researcher with Didi Rese...

Nada Bakos

Former CIA Analyst & Targeting Officer

Brett Johnson

Former United States Most Wanted; CyberSecurity Expe...

Avi Rubin

Professor of Computer Science & Technical Director o...

Clint Watts

Distinguished Research Fellow & Author; Security Co...

Harper Reed

Technologist, Entrepreneur & Hacker

Kevin Mitnick

World's Most Famous Hacker, New York Times Bestselli...

Parisa Tabriz

Senior Engineering Director at Google; Expert in Cyb...

Jana Eggers

CEO of NaraLogics; Innovation & AI Expert

Shara Evans

Technology Futurist, Keynote Speaker & Founder and C...
More like FC