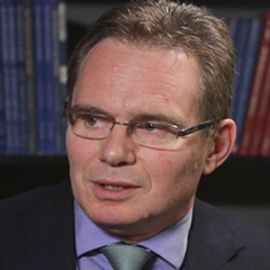 Frank A. Verrastro
Senior Vice President and Director, Energy and National Security Program
Frank Verrastro is senior vice president and holds the James R. Schlesinger Chair for Energy and Geopolitics at CSIS. From 2003 to 2012, he served as director of the CSIS Energy and National Security Program. He has extensive energy experience, having spent over 30 years in energy policy and project management positions in the U.S. government and the private sector. His government service has included staff positions in the White House and the Departments of Interior and Energy, including serving as deputy assistant secretary for international energy resources. In the private sector, he served as director of refinery policy and crude oil planning for TOSCO (formerly the nation's largest independent refiner) and more recently as senior vice president at Pennzoil. Responsibilities at Pennzoil included government affairs activity, both domestic and international, corporate planning, risk assessment, and international negotiations. In addition, he served on the company's Executive Management and Operating Committees, as well as the Environmental, Safety, and Health Leadership Council. Verrastro holds a B.S. in biology/chemistry from Fairfield University, a master's degree from Harvard University, and he completed the executive management program at the Yale University Graduate School of Business and Management. He has been an adjunct professor at the Elliott School of International Affairs at George Washington University and has lectured at Harvard's Kennedy School. He served as a member of the Coordinating Committee for the 2012 National Petroleum Council (NPC) study, Prudent Development of North American Energy Resources, as chair for the Geopolitics and Policy Task Groups for the 2007 NPC report, Hard Truths: Facing the Hard Truths about Energy, and as a Task Force member for the Council on Foreign Relations report, National Security Consequences of U.S. Oil Dependency and on the 2011 NPC report, Prudent Development—Realizing the Potential of North America's Abundant Natural Gas and Oil Resources. He has authored a variety of papers on energy and security topics and currently serves on the Advisory Board for the National Renewable Fuels Laboratory (NREL) in Golden, Colorado, and as a member of the Council on Foreign Relations.
Speech Topics
---
A ROADMAP FOR A SECURE, LOW-CARBON ENERGY ECONOMY, ENERGY AND NATIONAL SECURITY, OPPORTUNITY TIPPING POINT
Related Speakers View all
---
David Pumphrey

Deputy Director and Senior Fellow, Energy and Nation...

Guy Caruso

Senior Adviser

Daniel Esty

Hillhouse Professor of Environmental Law and Policy ...

Daniel Schnitzer

Daniel Schnitzer is the founder of EarthSpark Intern...

Pat Wood

Former Chairman of the Federal Energy Regulatory Com...

David Crane

Strategic Advisor Executive at Pegasus Capital Advis...

Sarah O. Ladislaw

Co-Director and Senior Fellow, Energy and National S...

Jeffrey Mankoff

Deputy Director and Fellow, Russia and Eurasia Program

Jeffrey P. Pellegrino

Military Fellow, International Security Program

Luis E. Giusti

Senior Adviser

Edward C. Chow

Senior Fellow, Energy and National Security Program

Scott Aughenbaugh

Deputy Director, Strategic Futures, CSIS

Anthony H. Cordesman

Arleigh A. Burke Chair in Strategy

Rob Harmon

President and CEO of EnergyRM

Doug Fine

Globe-Trotting Journalist, Award-Winning Climate Cor...

Jane Burston

Director at Clean Air Fund & Member of the Global Fu...

Bruno Sánchez-Andrade Nuño

PhD, Data Scientist at World Bank Group, Young Globa...

Matthew Kahn

Professor of Economics, UCLA Institute of the Enviro...

Dr. Ralph Cicerone

President, National Academy of Sciences

Tom Steyer

California Business Leader; Philanthropist and Clean...
More like Frank