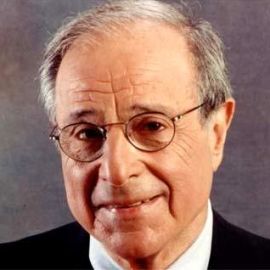 Frank Cappiello
Financial Analyst
Frank A. Cappiello is one of the country's leading financial analysts. He is an expert on the national economy and a recognized authority on investments. Cappiello's background in economics is extensive. For more than 12 years he was Chief Investment Officer for an insurance holding company, with overall responsibility of managing assets of $800 million. Prior to that, Cappiello was research director of a major stock brokerage firm. Subsequently, he was president of an investment counseling firm, McCullough, Andrews & Cappiello, Inc., providing asset management to individual and institutional investors.
Cappiello is currently a Managing Director of Montgomery Brothers, Cappiello, LLC, an investment advisor with offices in Washington, DC and New York. He was a regular panelist on the award winning PBS television series Wall $treet Week With Louis Rukeyser, having been a member of its Hall of Fame since 1991. He continues his panelist role on Rukeyser's subsequent show, Louis Rukeyser's Wall Street, on CNBC. Cappiello is a founder and past director of a small business commercial bank, The Bank of Maryland, which eventually became part of BB&T Corp, a $44 billion bank holding company.
The author of four books, including Finding the Next Superstock, Cappiello has been a faculty member at Johns Hopkins University and is currently a Distinguished Visiting Professor of Finance at Loyola College in Maryland. He is a graduate of the University of Notre Dame and Harvard University's Graduate School of Business Administration.
Speech Topics
---
The Global Economy—Perils & Possibilities 2003
The New American Economy—A View From Wall Street
How to Succeed in Investing—In Stocks both Big and Small
Finding the Next SuperStock
From the Main Street to Wall Street
Related Speakers View all
---
Todd Buchholz

Former White House Director of Economic Policy & CNB...

Planet Money

NPR's Multimedia Team on the Global Economy

Ben Stein

Political Economist, Commentator, Author & Actor

Jeremy Rifkin

Leading Global Technologist, Futurist, Authority on ...

Dr. Lawrence Chimerine

Managing Director and Chief Economist at the Economi...

Terry Savage

Personal Finance Expert, Investment Advisor, Syndica...

Daniel Altman

Sports Analytics & Strategy Expert

Muhammad Yunus

Nobel Peace Prize Laureate & Founder of Grameen Bank...

Joseph Stiglitz

American Economist, Professor at Columbia Universit...

Ian Bremmer

Political Scientist, Author, Entrepreneur & Lecturer

Dan Abrams

Chief Legal Affairs Anchor at ABC News & Founder of ...

Ayesha Khanna

The Leading Expert on Our Intelligent Future

Xavier Sala-i-Martin

Chief Economic Advisor to the World Economic Forum

Harry Markopolos

The Bernie Madoff Whistleblower

Jeffrey Garten

Professor, Yale School of Management and Expert on G...

Wyclef Jean

Grammy Award Winning Musician, Formerly in Band "The...

Nomi Prins

Distinguished Political-Financial Expert, Journalist...

Sheryl WuDunn

Pulitzer Prize-Winning Journalist; Co-author of Half...

John Zogby

Trendspotter & Leading Pollster

Dambisa Moyo

Global Economist, Author & Investor in the Future
More like Frank