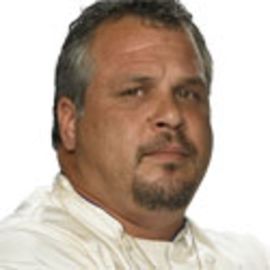 Frank Terzoli
Frankie The Bull - Bravo Top Chef Contestant; Executive Chef at "Scalini Restaurant" in Del Mar, CA
San Diego native Frank Terzoli, better known as "Frankie the Bull," makes national news as a controversial contestant on the second season of Bravo's "Top Chef" -- the highest rated food show on cable television. 
One of only two Southern Californians selected to compete out of 3,000 individuals, Frankie the Bull made his mark with his soon-to-be famous "don't be a hack" line -- he hates to see corners cut or compromises made when it comes to great food.
"I take extreme pleasure in making people happy by creating an unforgettable dining experience," said Terzoli. "But, I am also not afraid to tell people exactly the way it needs to be and why."
Whether it is turning cartwheels in the restaurant or belting out Italian opera, Frankie the Bull has built a reputation on there never being a dull moment when he is around. As Executive Chef of  Scalinirestaurant in Del Mar, CaliforniaFrank draws on many generations of Sicilian family recipes and prides himself on cooking by taste not just measurements. In addition to his duties at  Scalini, Terzoli books private lessons and dinners and manages his family's Spina wine business.
Related Speakers View all
---
CJ Jacobson

Executive Chef, "Top Chef" Contestant and Cancer Sur...

Stefan Richter

Chef and Owner, Stefan's Restaurants; Former Top Che...

Dean Thomas

Executive Chef Barona Valley Ranch Resort and Casino...

Robert St. John

Chef, Author, Restaurateur & World-Class Eater

Brian Pekarcik

Executive Chef "Arterra Restaurant" in San Diego

Claud Mann

Chef of TBS' "Dinner & a Movie"

Jason Knibb

Executive Chef of "Nine-Ten Restaurant" in La Jolla, CA

Michael Davis

Executive Chef at "Dobson's" in San Diego

Alex Thomopoulos

TV Food Personality, Private Chef, Comedian and Actress

Al Rosas

Known as "The Organic Chef" from Daytime on NBC, Lea...

Bbq Queens

BBQ Experts, Co-Authors of "Easy Grilling and Simple...

Ben Ford

Renowned Chef and Restauranteur

Chris Shepherd

James Beard Award-Winning Chef, Owner & Executive Ch...

Charles Mattocks

Celebrity Chef Known as "The Poor Chef;" Diabetes Aw...

Tre Wilcox

Former Chef and Owner of Marquee Grill in Dallas; 'T...

Barton Seaver

National Geographic Fellow, Ocean Conservationist, C...

Ben Roche

Director of Culinary Innovation and Executive Chef a...

Hosea Rosenberg

Winner of the fifth season of the Bravo reality show...

Kevin Sbraga

Winner of "Top Chef: Season 7," Chef and Owner of Sb...

Ed Cotton

Executive Chef, Plein Sud at the Smyth Hotel and con...
More like Frank