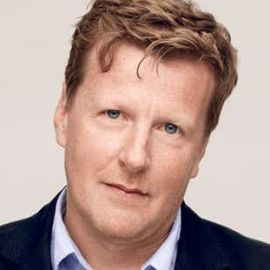 Fred Dust
Designer & Consultant; Former Senior Partner & Global Managing Director at IDEO
Fred Dust works with leaders and change agents to unlock the creative potential of business, government, educational, and philanthropic organizations. A partner at IDEO, the acclaimed international design firm, and a senior partner working out of IDEO's New York office, Fred is a leading voice and practitioner of human-centered design and networked innovation.
Fred helps organizations in media, finance, retail, and health confront significant disruption stemming from shifts in consumer behavior, social trends, economic pressures, and new technology. During his tenure, he has helped NBC redesign the TODAY show's audience experience on Rockefeller Plaza, guided the Consumer Financial Protection Bureau in helping students make smart decisions about paying for college, and collaborated with patients and staff to build innovative service models for the Mayo Clinic and Kaiser Permanente. In the public sector, Fred has worked with the US Agency for International Development, the US Office of Personnel Management, and the US Social Security Administration to establish citizen-centered strategies and develop structures to implement them. Fred also collaborates closely with nonprofit and philanthropic foundations such as the Bill & Melinda Gates Foundation, the Rockefeller Foundation, the Knight Foundation, the MacArthur Foundation, and Bloomberg Philanthropies to create new frameworks for engaging with stakeholders and improving the impact of their programs.
Fred is driven by creating and impacting outsized change through catalyzing networks. To that end, he has focused on significant shifts in the philanthropic sector working towards innovative portfolio. He is particularly invested in the increased overlap between non-profit, philanthropic, government, and private sector and the new structures to be developed to help these diverse sets.
Fred is a frequently requested speaker, advisor, and lecturer. He currently serves on IDEO.org's Board of Directors, the Board of Trustees for the Sundance Institute, the Board of Directors for NPR, the Board of Directors at The New School. He lectures widely on various topics, including design methodology, future trends, and social innovation. He holds numerous guest professor positions, and has taught classes at California College of the Arts and at the University of California, Berkeley School of Environmental Design.
Fred's writing, published by various journals, appears in several books: Extra Spatial (Chronicle Books, 2003) discusses the design of spaces, and Eyes Open: New York and Eyes Open: London (Chronicle Books, 2008) are city guides that view exceptional experiences through an urban lens.
Fred holds a bachelor's degree in art history from Reed College and a master's in architecture from the School of Environmental Design at UC Berkeley.
Prior to joining IDEO, Fred was a project architect at Fernau & Hartman, where he worked on retail and corporate projects, such as the Smith & Hawken headquarters and retail prototype and Oxygen Media. He also spent eight years working in the art world with major organizations (Hotwire Productions, the San Francisco Museum of Modern Art, Galería de la Raza, and others) and independent artists, supervising the development of interactive art installations and assisting in the production of film video projects.
Related Speakers View all
---
Dr. Michio Kaku

World-Renowned Futurist & Theoretical Physicist

David Agus

Professor of Medicine and Engineering at the Univers...

Arne Duncan

Managing Partner, Emerson Collective; Former U.S. Se...

Daniel Kraft, M.D.

Physician-Scientist; Founder of Exponential Medicine...

Sandy Speicher

Education Lead, IDEO

Paul Rieckhoff

Founder and Executive Director of Iraq and Afghanist...

Seth Berkley

CEO of Gavi, the Vaccine Alliance; Medical Doctor Sp...

Nicholas Burns

Professor of the Practice of Diplomacy & Internation...

James Steinberg

Dean, Maxwell School of Syracuse University; Former ...

Joseph Nye

Deputy to the Under Secretary of State for Security ...

Daymond John

"Shark Tank" Investor; Founder & CEO of FUBU; Presid...

Elliot Gerson

Executive Vice President of Policy and Public Progra...

Carol Adelman

Carol Adelman is a senior fellow and director of Hud...

Jeffrey Rosen

President & CEO of the National Constitution Center ...

Richard Besser

President & CEO of the Robert Wood Johnson Foundatio...

Michael Arad

architect

Melody Barnes

Former Director of the White House Domestic Policy C...

David Leonhardt

Op-Ed Columnist & Former Washington Bureau Chief at ...

Bill Gates

Co-Founder of Microsoft; Co-Chair of the Bill & Meli...

Darin Olien

Co-Host of Netflix "Down To Earth" with Zac Efron, B...
More like Fred