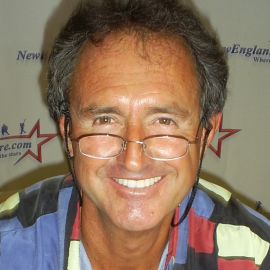 Fred Lynn
Frederic Michael Lynn is a former center fielder in Major League Baseball who played for the Boston Red Sox (1974-80), California Angels (1981-84), Baltimore Orioles (1985-88), Detroit Tigers (1988-89) and San Diego Padres (1990).
After graduation from USC, Fred Lynn started his career for the Red Sox with a phenomenal 1975 season in which he won the Most Valuable Player and Rookie of the Year awards, the first player ever to win both in the same season. Lynn was promoted in the Red Sox organization to being a full-time center fielder in 1975. He and fellow rookie outfielder Jim Rice were dubbed as the "Gold Dust Twins" because of their combined baseball talents. In 1975, Lynn led the American League in doubles, runs scored and slugging percentage, finished second in the batting race with a .331 average, and won a Gold Glove Award for his defensive play. His MVP-Rookie of the Year double was the first in MLB history, and has only been duplicated by Seattle Mariners right fielder Ichiro Suzuki in 2001.
Because Lynn longed to play in California where he had grown up, the Red Sox traded him to the Angels after the 1980 season. However, away from Fenway Park, which was batting average-friendly to left-handed hitters like him, he never hit over .300 again. Lynn did go on to hit more than 20 home runs in six consecutive seasons starting in 1982, and was selected MVP of the 1982 American League Championship Series, the first player from the losing team ever selected. In 1983, he hit the only grand slam in All-Star history and was named MVP after being elected to the team for the ninth consecutive year. His four home runs in All-Star games is second only to Stan Musial.
Following the 1984 season, Lynn signed a lucrative contract with the Orioles, who signed numerous free agents in the mid-1980s in an ultimately unsuccessful effort to win another World Series after their 1983 title. At this time, one newspaper report criticized Lynn saying, "He could pull a hamstring while taking a shower." Lynn never played more than 150 games in a season and only topped 140 games four times.
Detroit acquired Lynn for their 1988 pennant drive, which also proved unsuccessful. For the first time, he was playing in a park which favored left-handed power hitters, but age and injuries had taken their toll. Following a disappointing 1989 season, Lynn wrapped up his career with one season with San Diego in 1990, retiring at the age of 38 with career statistics which, while outstanding, only hinted at his early potential. His 306 career home runs placed him behind only Willie Mays, Mickey Mantle, Duke Snider, Dale Murphy and Joe DiMaggio among center fielders.
In his 17-year career, Lynn batted .283 with 1111 RBI, 1960 hits, 1063 runs, 388 doubles, 43 triples, and 72 stolen bases in 1969 games.
Fred Lynn was selected to the Boston Red Sox Hall of Fame in 2002.
Videos
---
Related Speakers View all
---
Wade Boggs

National Baseball Hall of Famer, 12-Time MLB All-Sta...

Carlton Fisk

Former Red Sox & White Sox Hall of Fame Catcher

Rollie Fingers

Fingers is regarded as a pioneer of modern relief pi...

Andre Dawson

Former Outfielder for the Montreal Expos & Chigaco C...

Bernie Williams

Former Outfielder for MLB's New York Yankees & 4-Tim...

Luis Tiant

Former Professional Pitcher for the MLB; Known for h...

Jim Rice

James Edward "Jim" Rice was born March 8, 1953 in An...

Ozzie Smith

15-Time MLB All-Star & National Baseball Hall of Fam...

Dwight Evans

Former Boston Red Sox Right Fielder

Max Scherzer

American Professional Baseball Pitcher, Detroit Tigers

Matt Harvey

Matthew Edward Harvey is an American Major League Ba...

Greg Maddox

Baseball Player

Rafael Palmero

Thus the Holy Father accepted the resignation of t...

Larry Walker

Entries on this list discuss the plight of Relief Pi...

Tommy John

Former MLB Baseball Pitcher

Sammy Sosa

Former Professional Baseball Player, Businessman and...

Ralph Kiner

Ralph McPherran Kiner was born October 27, 1922 and ...

Joel Madden

Lead Vocalist of Good Charlotte, Record Producer, A...

Jay Bruce

MLB Right Fielder

Hunter Pence

MLB Right Winger
More like Fred