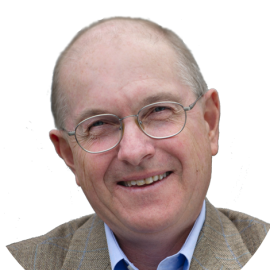 Driving Good Profits and True Growth (Harvard Business Press).  Acclaimed by business leaders as the "godfather of customer loyalty," Reichheld's new book shows organizations how to achieve organic growth, tell the difference between "good"and "bad" profits, and turn customers into valuable allies.
A New York Times, best-selling author, Reichheld helps organizations garner superior results through improvements in customer, employee, partner, and investor loyalty. His pioneering work has quantified the linkage between loyalty, profits, and growth.
In the June, 2003 edition of Consulting Magazine, Mr. Reichheld was recognized as one of the world's top 25 consultants.
According to The New York Times, "[He] put loyalty economics on the map". The Economist refers to him as the "high priest"of loyalty. And 1to1 Magazine calls him, "the undisputed king of loyalty". He is the author of two books and seven Harvard Business Review articles on the subject.
Mr. Reichheld joined Bain in 1977 and was elected to the partnership in 1982. In addition to founding and leading the Loyalty Practice, he served the firm in a variety of roles including membership on its Worldwide Management, Nominating, and Compensation Committees. In January 1999, he was elected by the firm to become the first Bain Fellow - a half-time position that enables him to focus primarily on research and writing.
Mr. Reichheld is a frequent speaker to major business forums and groups of CEOs and senior executives worldwide. His work has been widely covered in The Wall Street Journal, New York Times, Fortune, Business Week and The Economist. His first book, The Loyalty Effect: The Hidden Force Behind Growth, Profits, and Lasting Value (Harvard Business School Press, 1996) has become an international bestseller. His most recent book, Loyalty Rules!: How Today's Leaders Build Lasting Relationships (Harvard Business School Press) was published in September 2001.
Fred Reichheld graduated with Honors both from Harvard College (B.A., 1974) and Harvard Business School (M.B.A., 1978).
Speech Topics
---
Building Employee Loyalty: Organization, Compensation, Communication, and Strategy
Customer Relationship Management
E-Loyalty: Enduring Relationships on the Web
Leadership Strategies for Building Loyalty
Measuring Loyalty: Moving Beyond Customer Satisfaction
The Economics of Customer and Employee Loyalty
The Increasingly Vital Role of Loyalty in the New Economy
The Link Between Corporate Ethics and Profits
Books
---
Related Speakers View all
---
Tim Sanders

Bestselling Author, Technology Pioneer, Expert on Co...

Dr. Nido Qubein

Award-Winning Speaker and Author, President of High ...

Paul Orfalea

Founder of Kinko's, Philanthropist-Chairman of the O...

Michael Gerber

Small Business Guru & Author of the Mega-Bestseller ...

Michael Bergdahl

Former Wal-Mart Executive, Best Selling Author and H...

Steve Farber

Best-Selling Author the Radical Leap; Consultant and...

Garrison Wynn

Comedian & Motivational Business Expert

Bruce Tulgan

Founder of Rainmaker Thinking; Best-Selling Author &...

Brian Tracy

Authority on Human Potential & Personal Effectivenes...

Howard Putnam

Former CEO of Southwest Airlines

Doug Lipp

Former Head of Training at Walt Disney University & ...

Patrick Lencioni

Management Consultant; Founder & President of The Ta...

Joseph Grenny

New York Times Bestselling Author; Leading Social Sc...

Adrian Gostick

Founder of The Culture Works & Bestselling Author of...

Sam Geist

Consultant / Facilitator

Dr. Kevin Freiberg

World-Wide Best-Selling Author, Speaker & Advisor

Dr. Jackie Freiberg

Corporate Culture & Leadership Strategist, Best-Sell...

Chester Elton

#1 Bestselling Business Author, Organizational Cultu...

Curt Coffman

Workplace Consultant & New York Times Bestselling Au...

Marcus Buckingham

Peak Performance Expert, Best-Selling Author, Resear...
More like Fred