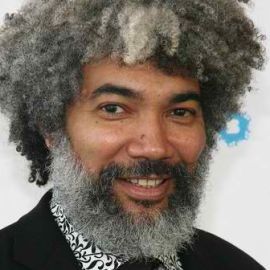 Fred Wilson
Artist, MacArthur Foundation "Genius Grant" Award Recipient, Larry Aldrich Foundation Award Recipient
Wilson received a MacArthur Foundation "genius grant" in 1999 and the Larry Aldrich Foundation Award in 2003. Wilson represented the United States at the Biennial Cairo in 1992 and the Venice Biennale in 2003. In May 2008, it was announced that Wilson would become a Whitney Museum trustee replacing Chuck Close. Wilson is represented by The Pace Gallery in New York.
An alumnus of Music & Art High School in New York, Wilson received a BFA from SUNY Purchase in 1976, where he was the only black student in his program. He says that he no longer has a strong desire to make things with his hands. "I get everything that satisfies my soul," he says, "from bringing together objects that are in the world, manipulating them, working with spatial arrangements, and having things presented in the way I want to see them."
An installation artist and political activist, Wilson's subject is social justice and his medium is museology. In the 1970s, he worked as a free-lance museum educator for the American Museum of Natural History, the Metropolitan Museum of Art and the American Craft Museum. Beginning in the late 1980s, Wilson used his insider skills to create "Rooms with a View", a series of "mock museums" that address how museums consciously or unwittingly reinforce racist beliefs and behaviors. This strategy, which Wilson refers to as "a trompe l'oeil of museum space," has increasingly become the focus of his life's work.
From 1988 to 1992, Wilson served on the board of directors at Artists Space in TriBeCa, New York. He currently serves on the board of trustees of the Whitney Museum of American Art in New York.
In 1987, as part of his outdoor "Platform" series, Wilson created No Noa Noa, Portrait of a History of Tahiti, designed to illustrate "how Western societies turn Third World peoples into exotic sideshow creatures to entertain and titillate but who are not to be taken seriously."
In his 1992 seminal work co-organized with The Contemporary Museum, Mining the Museum, Wilson reshuffled the Maryland Historical Society's collection to highlight the history of Native and African Americans in Maryland. In 1994, Wilson continued in this vein with Insight: In Site: In Sight: Incite in Winston-Salem, North Carolina, where, according to art historian Richard J. Powell, his "re-positioning of historical objects and manipulation of exhibition labels, lighting, and other display techniques helped reveal aspects of the site's tragic African-American past that (because of the conspiratorial forces of time, ignorance, and racism) had largely become invisible."
In 2001, Wilson was the subject of a retrospective, Fred Wilson: Objects and Installations, 1979–2000, organized by Maurice Berger for the Center for Art and Visual Culture, University of Maryland, Baltimore County (UMBC), Baltimore County. The show traveled to numerous venues, including the Santa Monica Museum of Art, Berkeley Museum of Art, Blaffer Gallery (University of Houston), Tang Teaching Museum and Art Gallery (Skidmore College, Saratoga Springs, NY), The Addison Gallery of American Art in Andover, Massachusetts, Chicago Cultural Center, Studio Museum in Harlem. For the 2003 Venice Biennale, Wilson created a multi-media installation that borrowed its title from a line in Othello. His elaborate Venice work "Speak of Me as I Am" focused on representations of Africans in Venetian culture.
In 2007 Fred Wilson was invited to be a part of the Indianapolis, Indiana, Cultural trail. Wilson proposed to redo the sole African American depicted in the Soldiers and Sailors Monument in downtown Indianapolis. The African American represents a recently freed slave reaching up to lady liberty. Wilson planned on using a scan of the African American to make an entirely new work, which would give the African American a more proud and strong posture, holding a flag composed of all of the African countries' flags. The proposed work was entitled, E Pluribus Unum, and was met with much controversy, eventually leading to the project's rejection.
In 2009, Wilson was awarded the Cheek Medal by William & Mary's Muscarelle Museum of Art. The Cheek Medal is a national arts award given by The College of William & Mary to those who have contributed significantly to the field of museum, performing or visual arts.
2011 saw the publication of Fred Wilson: A Critical Reader by Ridinghouse, edited by Doro Globus. An anthology of critical texts about and interviews with the artist, this publication focuses on the artist's pivotal exhibitions and projects, and includes a wide range of significant texts that mark the critical reception of Wilson's work over the last two decades.
Videos
---
Books
---
Related Speakers View all
---
Rye Barcott

Co-Founder & CEO of With Honor, Veteran and Author o...

Mia Kirshner

Mia Kirshner (born January 25, 1976 [1]) is a Canadi...

Tiffany Shlain

Emmy-Nominated Filmmaker & Founder of the Webby Awards

Elizabeth Alexander

Renowned Poet; Infamous for Inauguration Poem "Prais...

Moby

Musician, DJ, Photographer

Damian Woetzel

Director, Arts Program, The Aspen Institute; Artisti...

Anna Deavere Smith

Award-Winning Actress, Playwright, Social Commentator

Diane Ravitch

Research Professor & Historian of Education

Tod Machover

Tod Machover is head of the MIT Media Lab's Hyperins...

Robert Hormats

Vice Chairman of Kissinger Associates Inc.

Jonathan Haidt

Professor of Ethical Leadership at New York Universi...

Dan Glickman

Vice President of the Aspen Institute & Senior Fello...

Dana Gioia

Poet; Former Chairman, National Endowment of the Arts

Richard Florida

Leading Urbanist, Economist & Author of "The Rise of...

Mickey Edwards

Vice President & Program Director, Rodel Fellowships...

David Breashears

Everest Adventurer, Filmmaker & Senior Lecturer at M...

Paola Antonelli

Senior Curator at the Museum of Modern Art in the De...

B. Gentry Lee

Chief Engineer for Solar System Exploration, Jet Pro...

Edwin Schlossberg

President & Principal Designer, ESI Design

Myung Sun Choi

Co-Founder, CompactCath; Graduate Student, Stanford ...
More like Fred