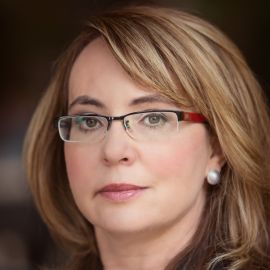 Gabrielle Giffords
Retired Congresswoman; Assassination Attempt Victim in 2011; Founder of "Giffords"
For more than 15 years, former Congresswoman Gabrielle Giffords has dedicated herself to public service.
As the youngest woman ever elected to the Arizona State Senate, she represented her community in the Arizona Legislature from 2000-2005, and then in Congress from 2006-2012. Her success was credited to her reliance on kindness, candor and hard, grueling work.
In Congress, Giffords represented a diverse area that covers 9,000 square miles including a 114-mile border with Mexico. She quickly became a leading champion of border security, energy independence, and the needs of military families and veterans. Consistently ranked as one of the most centrist legislators in Congress, she is a strong supporter of fiscal responsibility, bipartisanship, and government accountability.
On January 8, 2011, at a "Congress On Your Corner" event in Tucson with her constituents, Congresswoman Giffords was shot in the head from near point-blank range. In stepping down from Congress in January 2012, Congresswoman Giffords said, "I will return, and we will work together for Arizona and this great country."
In 2013, Congresswoman Giffords and her husband, Navy combat veteran and retired NASA astronaut Captain Mark Kelly, founded Americans for Responsible Solutions, now called Giffords, as a way to encourage elected officials to stand up for safer communities. Congresswoman Giffords will not allow leaders across the country to forget that Americans are demanding responsible solutions to gun violence.
A third generation Arizonan and long-time gun owner, Congresswoman Giffords believes in the constitutional right of all Americans to safely and responsibly own firearms.
Congresswoman Giffords holds a Master's Degree in Regional Planning from Cornell University and a BA from Scripps College, where she was awarded a William Fulbright Scholarship to study for a year in Chihuahua, Mexico.
She resides in her beloved hometown of Tucson, Arizona.
Videos
---
Books
---