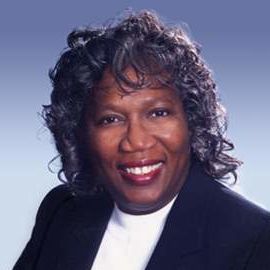 Gail Harris
Highest Ranking African American Woman in the US Navy
Since she was five years old, Gail Harris knew she wanted to serve in the U.S. Navy. Unaware of the existing federal law prohibiting women from going into combat, Gail forged ahead, becoming the first woman in naval history to serve as an Intelligence Officer in a Navy aviation squadron. Having paved the way for generations of women, Harris was the highest ranking African American woman in the Navy at her retirement. Her hands-on leadership was instrumental during every major conflict from the Cold War and El Salvador to Desert Storm and Kosovo. Her hard work, ingenuity and outstanding performance made Gail a frequent traveler to the most challenging assignments around the globe.
A fearless trailblazer, Harris was a formidable force in the Navy. As the first female and first African American for every job assignment she accepted, Harris faced serious opposition from her superiors and peers. With her fierce intelligence and sense of humor, Harris quickly earned their respect. Her memoir, A Woman's War: The Professional and Personal Journey of the Navy's First African American Female Intelligence Officer, follows Harris's inspirational career, sharing her unique perspective as she completed the complex task of providing intelligence support to military operations while also battling the status quo, office bullies and politics.
Harris knows how to turn a goal into reality. Her wisdom and strength shine through every presentation as she imparts valuable lessons in leadership and courage. She knows how to thrive in a hostile and harsh work environment, and her insight and advice can help anyone who needs to overcome a difficult challenge. With her signature charm and energy, Gail Harris inspires audiences from all walks of life to never stop fighting for their dreams.
Videos
---
Speech Topics
---
Take Command and Win
Her success tools are in demand everywhere. Intelligence, leadership skills, and work ethic — they all stand out in a non-stop series of career "firsts." She was the first woman, and often the first African-American, in every major military post she held. Recently retired, Captain Gail Harris, USN (ret.), was the highest ranking African-American female in the U.S. Navy.
Pursuit of excellence in performance — through hard work fired by courage and persistence — sets the stage for a gripping presentation. Harris earned her stripes in the pressure-cooker of the intelligence community. Her wealth of leadership skills, tested in the rough waters of the real world, will equip any professional audience for their best effort: Here's how get the most from yourself and from those around you, against all odds.
Why Change Can't Wait
Central Premise: Diversity is not just an ethnic minority vs. white or male vs. female issue. White males now make up 36% of the population and are rightly concerned about achieving their goals in a rapidly changing environment. Within the next 50 years, Hispanics will make up 24% of population, African Americans 15%, and Asians 9%. Currently 1 of every 2 job seekers is a woman. Diversity is really about leveling the playing field so everyone has an equal opportunity to achieve their life and work place goals.
Is the U.S. in for a Cyber Pearl Harbor?
Could a well orchestrated cyber attack bring America down to its knees? Are our power grids, telecommunications, and banking and transportation infrastructures at risk? Cyber warfare is already being used throughout the world. In April and May of 2007 the nation of Estonia suffered a cyber attack that bought the nation's government, banks, media and other institutions to a standstill. The Russian attack against the Republic of Georgia last year was preceded by a cyber attack that took several key government web sites down. Our own government is defending against thousands of cyber attacks each year. Knowledge is power. What we need to know to prevent a cyber nightmare.
How to Stop Shooting Yourself in the Foot in the Workplace
Did it ever occur to you that perhaps the reason you were passed over for a promotion, fired, or constantly in the dog house at work is because of personal flaws? During this talk I cover how I learned to stop shooting myself in the foot and master job techniques that allowed me to finally succeed in the workplace.
Bloom Where You're Planted
Have you ever found yourself in a dead end job? Have you ever thought your career was over? Numerous times I was given what was considered an "insignificant" job. I share with the audience techniques I used to turn a desert experience into an oasis and develop win-win solutions for both my organization and my career.
Related Speakers View all
---
Coleman Peterson

Former Executive Vice President, Wal-Mart. President...

Jackie Joyner-Kersee

Olympic Legend, Philanthropist, American Record-Hold...

Dr. Tererai Trent

Internationally Recognized Voices for Quality Educat...

Star Jones

Former Co-Host of "The View", Social Justice & Heart...

Dominique Dawes

Olympic Gold Medal-Winning Gymnast, Former Co-Chair ...

Somaly Mam

Survivor & Anti-Sex Slavery Activist

Jeanette Jenkins

Jeanette Jenkins, founder and President of The Holly...

Sheryl Swoopes

3-Time WMBA MVP & Olympic Gold Medalist

Linda Alvarado

CEO of Alvarado Construction & National Women's Hall...

Sheryl WuDunn

Pulitzer Prize-Winning Journalist; Co-author of Half...

Alexandra Cousteau

Environmental Activist, Storyteller & Ocean Advocate

Robert Dole

Former Senate Majority Leader; Former U.S. Senator o...

Charles Patrick Garcia

Successful Entrepreneur, Best-selling Author and Lea...

Hoda Kotb

Broadcast Journalist, Television Personality, Author...

Venus Williams

Professional Tennis Player, Four-Time Olympic Gold M...

Caitlyn Jenner

TV Personality, Olympic Gold Medalist & Iconic Trans...

Stedman Graham

Chairman & CEO of S. Graham & Associates, Leadership...

Rocky Bleier

Former NFL Football Player, Wounded Vietnam Veteran ...

Jurnee Smollett

Actress & Singer

C. Vivian Stringer

Women's Basketball Coach
More like Gail