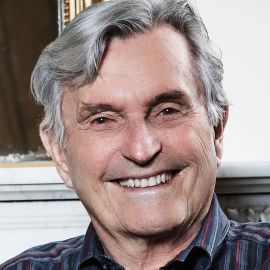 Gary M. Douglas
Thought Leader, Bestselling Author, Entrepreneur and Investor
Gary M Douglas is an internationally-recognized thought leader, bestselling author, business innovator and founder of Access Consciousness®, a set of pragmatic tools and teachings that are transforming the lives of people of all ages and background, around the world. These simple, cutting-edge tools are practiced by celebrities, corporate executives and teachers, and are used by health professionals (such as psychologists, chiropractors, naturopaths) to improve the health and wellbeing of their clients. In the past 25 years, Gary's work has spread to 170 countries with more than 3000 trained facilitators worldwide.
A vibrant septuagenarian (who is almost 'ageless'), Gary has a very different view on life. He believes we are here to express our uniqueness and experience the ease and joy of living, and lives by the creed, ""What if the purpose of life is to have fun? Are you having any yet?""
Dynamically energetic, Gary also has a wide range of personal interests and other business endeavours. These include an enthusiasm for antiques (Gary established 'The Antique Guild' in Brisbane, Australia in 2012), riding spirited stallions and breeding Costarricense De Paso horses, and an eco-retreat in Costa Rica. He recently acquired a 20-bedroom castle in Italy which will be open to the public in September this year. He is a vocal advocate of Benevolent Capitalism and conscious leadership, believing that business can be a force for good, contribute more to the planet and a create a sustainable future.
Speech Topics
---
Never Give Up, Never Give in, Never Quit
Benevolent Capitalism a new style of leadership ( Beyond Conscious Capitalism)
The long lost art of elegance
Why questions are the answer to happiness
Divorce- less Relationships
Why Money isn't the Problem you are Are!
Related Speakers View all
---
Reg Lenney

Multi Award-Winning Vital Coach & Author

Marquez Hughley

Leadership Expert, Author, Inspirational Speaker

Liene Stevens

Author, speaker, and behavioral psychology expert wh...

Andrew Fastow

Former CFO of Enron; Expert Keynote Speaker on Finan...

Elon Musk

CEO & Product Architect of Tesla Motors; CEO/CTO of ...

Dr. Kjell Nordstrom

Economist, Writer, and Innovative Speaker

Saj-Nicole Joni

Business Strategist & Advisor

Dr. Fred Luskin

Expert on Health and Happiness & Author of "Forgive ...

J.R. Martinez

Actor, Best-Selling Author, Motivational Speaker, Ad...

Story Musgrave, M.D.

Retired NASA Astronaut; Physician & Professor at Art...

Erin Gruwell

Founder & Executive Director of the Freedom Writers ...

Jonathan H. Westover, PhD

Award-Winning #1 Best Selling Author, Ranked #1 HR, ...

Dave Raymond

Author & Happiness Thought Leader

Lucy Hone

Resilience Expert & Researcher

Cathy Hackl

Futurist, Author & Globally Recognized Augmented Rea...

Trevor Moawad

Mental Conditioning Expert, Strategic Advisor & Author

David Siegel

Entrepreneur, Author & Futurist

Dr. Jeff Chen

Thought Leader; Founder & Executive Director of UCLA...

Ravin Jesuthasan

Managing Director & Global Practice Leader at Willis...

Barrie Loberg

Co-Founder & Vice President of Software Development ...
More like Gary