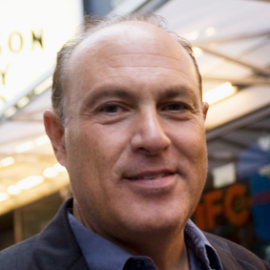 Dr. Gary Slutkin is a physician, epidemiologist, infectious disease control specialist and Founder/ Executive Director of Cure Violence. Recognized as an innovator in violence prevention, Dr. Slutkin sees the issue of violence as fundamentally misdiagnosed and has presented his solution-oriented understanding to the World Bank, the State Department, the World Health Organization, the Institute of Medicine, MIT SaxeLab, Harvard Law School and the National Intelligence Council.
Dr. Slutkin applied lessons learned from more than a decade fighting epidemics in Africa and Asia to the creation of a public health model to reduce violence through behavior change and disease control methods. He is an Ashoka Fellow, a Professor of Epidemiology and International Health at the University of Illinois at Chicago, a senior advisor to the World Health Organization and the 2009 Winner of the Search for a Common Ground Award. Dr. Slutkin received his M.D. from the University of Chicago Pritzker School of Medicine, and did his internship and residency at San Francisco General Hospital. He served as Medical Director for the Tuberculosis Program for the San Francisco Health Department (1981 – 1985), where he learned infectious disease control methods, and from 1987 to 1994 worked for the World Health Organization reversing epidemics, including being principally responsible for supporting Uganda's AIDS program—the only country to have reversed its AIDS epidemic.
Currently, Cure Violence has been endorsed by a resolution from the U.S. Conference of Mayors, while the program's underlying theory has been promoted by the Institute of Medicine. The public health method is being replicated in more than 50 sites in 15 U.S. cities and seven countries abroad. Dr. Slutkin's work was featured in Studs Terkel's Will the Circle be Unbroken, profiled in Blocking the Transmission, a New York Magazine cover story by bestselling author Alex Kotlowitz, and represented in the award-winning documentary The Interrupters.