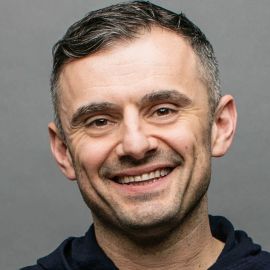 One of the world's leading marketing experts, Gary Vaynerchuk has built his career by being exactly where consumer attention is going next.
Just out of college, Gary grew his family wine business from a $3M to a $60M business in just five years. Now, he runs VaynerMedia, one of the world's hottest digital agencies. Along the way, Gary became a prolific angel investor and venture capitalist, investing in companies including Snapchat, Facebook, Twitter, Uber and Venmo and co-founding the VaynerRSE fund.
In addition to running digital agency VaynerMedia, Gary also serves as Chairman of holding company VaynerX, which houses VaynerMedia and The Gallery, a new publishing company Gary started after acquiring leading women's lifestyle property PureWow in January 2017, with his business partners at RSE Ventures. Gary also serves as a partner in athlete representation agency VaynerSports and restaurant reservations app Resy.
With millions of fans on social media, Gary shares his ongoing journey as an entrepreneur in his daily vlog, #DailyVee. He also hosts The #AskGaryVee Show, on which he answers questions about digital media, entrepreneurship, leadership and more, based on a lifetime of building successful, multi-million dollar companies and The GaryVee Audio Experience, a top 100 global podcast.
Gary serves as a board/advisory member of organizations including the Ad Council and Pencils of Promise, and is a longtime Well Member of Charity:Water. Gary also frequently keynotes at conferences such as Le Web, ANA Masters of Marketing, Web Summit and more.
Gary also appeared as judge in Apple's first original series "Planet of the Apps" alongside Gwyneth Paltrow, Jessica Alba and Will.i.am.
Speech Topics
---
Jab, Jab, Jab, Right Hook: How to Tell Your Story in a Noisy World
From figuring out how to effectively communicate on modern platforms - through a picture, through a SnapChat, or through an animated GIF on Tumblr, Gary's latest insights and information promises to become tomorrow's standards.
The Thank You Economy
In his session, Gary Vaynerchuk teaches entrepreneurs how to take advantage of the current business environment, while also preparing them to succeed as it changes and evolves into what he's termed "The Thank You Economy." With the rise of the Internet and the power of the common consumer, businesses must look backwards and scale the caring their grandparents' businesses exhibited towards their customers, or watch the competition pass them by. Today, individuals and brands that out-care and out-love their competition - those emphasizing quality, value, responsiveness, and attention to detail, among other essentials - see the biggest returns.
CRUSH IT! Cash in on Your Passion
Everything has changed. The social media revolution has irreversibly changed the way we live our lives and conduct our business. There are billions of dollars in advertising moving online, waiting to be claimed by whoever can build the best content and communities. Despite this change, most people keep working at jobs that don't make them happy and businesses continue to ignore the major marketing and public relations benefits that can be found online.
Why Smart People Dismiss Social Media, and Why They Shouldn't