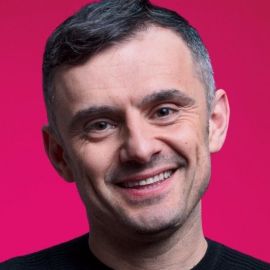 Gary Vaynerchuk is a serial entrepreneur and the Chairman of VaynerX, a modern day communications parent company, as well as the CEO and Co-Founder of VaynerMedia, a full-service digital agency servicing Fortune 500 clients across the company's 4 locations.
His fifth book "Crushing It!: How Great Entrepreneurs Build Business and Influence-and How You Can, Too" is available in stores now!
Gary rose to prominence in the late 90's after establishing one of the first ecommerce wine sites, WineLibrary helping his father grow the family business from 4 to 60MM in sales.
Gary is also one of the most sought after public speakers alive today. He is a venture capitalist, 5-time New York Times bestselling author, and an early investor in companies such as Twitter, Tumblr, Venmo and Uber. Gary has been named to both Crain's and Fortune's 40 Under 40 lists.
Gary is currently the subject of DailyVee, an online documentary series highlighting what it's like to be a CEO and public figure in today's digital world. He is also the host of #AskGaryVee, a business and advice Q&A show online.
Gary is also the host of a global top 10 business podcast, The Gary Vaynerchuk Audio Experience.
Gary's signature sneakers, The GaryVee 001 & 002 in collaboration with K-Swiss sold out on opening day.
He is the Co-Founder of VaynerSports, a full service athlete representation agency with more than 20 clients with his brother AJ.
Gary also appears with Gwyneth Paltrow, Jessica Alba and Will.i.am on Apple's first original series "Planet of the Apps" out now.
Speech Topics
---
Jab, Jab, Jab, Right Hook: How to Tell Your Story in a Noisy World
From figuring out how to effectively communicate on modern platforms - through a picture, through a SnapChat, or through an animated GIF on Tumblr, Gary's latest insights and information promises to become tomorrow's standards.
The Thank You Economy
In his session, Gary Vaynerchuk teaches entrepreneurs how to take advantage of the current business environment, while also preparing them to succeed as it changes and evolves into what he's termed "The Thank You Economy." With the rise of the Internet and the power of the common consumer, businesses must look backwards and scale the caring their grandparents' businesses exhibited towards their customers, or watch the competition pass them by. Today, individuals and brands that out-care and out-love their competition - those emphasizing quality, value, responsiveness, and attention to detail, among other essentials - see the biggest returns.
CRUSH IT! Cash in on Your Passion
Everything has changed. The social media revolution has irreversibly changed the way we live our lives and conduct our business. There are billions of dollars in advertising moving online, waiting to be claimed by whoever can build the best content and communities. Despite this change, most people keep working at jobs that don't make them happy and businesses continue to ignore the major marketing and public relations benefits that can be found online.
Why Smart People Dismiss Social Media, and Why They Shouldn't