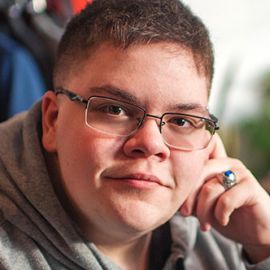 Gavin Grimm is a transgender rights activist who became famous for the lawsuit fighting the bathroom laws of his former high school in Gloucester, Virginia. He has become a national face for transgender students and currently resides in California.
As part of his medical treatment for severe gender dysphoria, Gavin and his mother notified administrators of his male gender identity at the beginning of his sophomore year so that he could socially transition in all aspects of his life. With permission from school administrators, Gavin used the boys' restroom for almost two months without any incident. But after receiving complaints from some parents and residents of Gloucester County, the school board adopted a new policy banning Gavin from using the boys' restrooms.
The American Civil Liberties Union (ACLU) filed a federal lawsuit on Gavin's behalf and filed a motion for preliminary injunction asking the court to rule in time for Gavin to be able to use the same restroom as other boys at Gloucester High School when classes resumed for the 2015-16 school year. The lawsuit argues the bathroom policy is unconstitutional under the Fourteenth Amendment and violates Title IX of the U.S. Education Amendments of 1972, a federal law prohibiting sex discrimination by schools.
The district court denied the injunction and dismissed Gavin's claim under Title IX. That decision was appealed before the U.S. Court of Appeals for the Fourth Circuit and the lower court's decision was overturned. Gloucester County School Board then asked the Supreme Court to take on the case and the Fourth Circuit's order was stayed pending the Supreme Court's decision about whether to take the case.
On October 28, 2016, the Supreme Court announced it will review the decision from the Fourth Circuit Court of Appeals. Gavin's case was set to be heard by the Supreme Court on March 28, 2017. But on March 5, the Supreme Court announced that it was sending Gavin's case back to the lower courts to be reconsidered in light of the Departments of Justice and Education rescinding of a Title IX guidance clarifying protections for transgender students.
Gavin graduated high school in June 2017, still unable to use the same restroom as other boys. The U.S. District Court for the Eastern District of Virginia denied the school district's request to dismiss the case, agreed with the ACLU that the school violated the rights of transgender students under Title IX, and ordered a settlement conference.
On August 9, 2019, a federal judge in Virginia ruled that the school board's transgender bathroom ban indeed discriminated against Grimm, the latest in a string of decisions nationwide that favor transgender students who faced similar policies. The order is a major victory for the American Civil Liberties Union and for Grimm. His four-year lawsuit was once a federal test case and had come to embody the debate about transgender student rights.
Related Speakers View all
---
Geena Rocero

Transgender Model & Advocate; Founder of Gender Proud

Yoruba Richen

Director, Writer & Producer; Known for her TED Talk ...

Chris Mosier

First Transgender Man to Make Team USA, Transgender ...

Chella Man

Transgender Model, Activist & Artist

Erin O'Flaherty

Miss Missouri 2016; First Openly Gay Miss America Co...

Charlene Carruthers

Social Justice Activist, Community Organizer, Founde...

Shane Ortega

The US Army's First Openly Trans Soldier

Alex Newell

Actor & Singer Known for "Glee"

D'Lo

Transgender Actor, Comedian & Activist

Kumu Hina

Hawaiian Transgender Teacher & Community Leader

Hannah Hart

YouTube Star & Comedian; Creator of "My Drunk Kitche...

Janet Mock

Author, Feminist, Transgender Rights Activist, TV H...

Jacob Tobia

LGBTQ Activist & Author of "Sissy: A-Coming-of-Gende...

Sally Kohn

Founder and CEO of Movement Vision Lab; Liberal Poli...

Megan Rapinoe

Midfielder & Winger on the U.S. Women's National Soc...

MJ Rodriguez

Actress & Singer; Known for "Pose"

DeRay Mckesson

Civil Rights Activist & Host of "Pod Save The People"

Lea DeLaria

First Openly Gay Comic to Break the Late-Night Talk-...

Elliot Fletcher

Actor & Musician; Best Known for His Roles in "Fakin...

Gus Kenworthy

Professional Skier, Olympic Medalist, Activist, Infl...
More like Gavin