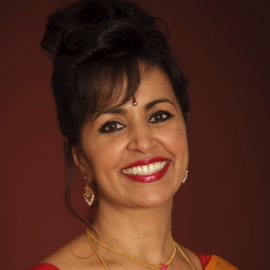 Gayathri Ramprasad
Founder & President of ASHA International & Author of "Shadows in the Sun: Healing from Depression and Finding the Light Within"
Gayathri Ramprasad is the Founder and President of ASHA International, a nonprofit organization promoting personal, organizational, and community wellness and the author of Shadows in the Sun: Healing from Depression and Finding the Light Within. Her successful battle in overcoming life-threatening mental illness and her amazing recovery taught her the power of hope and holistic wellness. Now, she shares that message with others. Since the launch of ASHA International's wellness campaign, Healthy Minds, Healthy Lives in 2006, Ramprasad's keynotes, wellness workshops, and cultural competence trainings have reached more than 30,000 people nationally and internationally, with a resounding message of hope and healing. Individuals and organizations alike applaud Gayathri as an agent of hope and transformational change.
Ramprasad received her first undergraduate degree in science from Bangalore University in India. At George Fox University in Newberg, Oregon, she earned a second undergraduate degree in management and information systems and a master's in business administration. She is also a Certified Peer Specialist (CPS).
Ramprasad is a member of the Global Speakers Federation and winner of the prestigious Eli Lilly Welcome Back Award for Lifetime Achievement and the Voice Award for Consumer Leadership sponsored by the Substance Abuse and Mental Health Services Administration. She is also the winner of the 2008 Outstanding Alumna Award from her alma mater George Fox University.
In May 2015, Ramprasad presented a TEDx talk titled "Be The Hope".
Videos
---
Speech Topics
---
FINDING THE LIGHT WITHIN: My Journey from Adversity to Advocacy
Gayathri was born and raised in Bangalore, India, amidst ancient traditions, and a large, loving extended family. Her happy childhood, however, gave way to a traumatic adolescence. By the time she was 18, she was debilitated by generalized anxiety disorder and panic attacks. And, at 23, as a young mother in America, she struggled to free herself from the death-hold of depression.
Gayathri's signature keynote, FINDING THE LIGHT WITHIN, takes audiences on her cross-continental journey from the entrapment of mental illness to a life of empowerment and global advocacy on behalf of people struggling with mental illness around the world.
HEALING FROM DEPRESSION: 8 Keys to Recover & Thrive
Depression is a leading cause of disability worldwide. According to the World Health Organization, depression affects 350 million men, women and children around the world. Although depression can be reliably diagnosed and treated, fewer than 25% of those affected have access to effective treatment. Stigma, discrimination, lack of awareness and access to affordable care deter people from seeking life-saving treatment and social supports.
This innovative and highly interactive Wellness Workshop will inspire audiences with a renewed sense of hope, and provides a wide array of tips and tools to overcome barriers to recovery and achieve wellness.
During this Wellness Workshop, participants will:
Discover 8 keys to recover & thrive
Learn about the 8 dimensions of wellness
Create Personalized Wellness Action Plans
CULTIVATING WELLNESS: Holistic Practices to Promote Mental Health and Wellness
Wellness incorporates many dimensions of health, each of which is interconnected within an individual's total well-being. Offering her recovery story as a testimonial, the presenter will demonstrate how participants can cultivate wellness by integrating a wide variety of holistic practices into their daily life.
During this wellness workshop, participants will:
Learn about the 8 dimensions of wellness
Explore a wide variety of wellness tools
Create Personalized Wellness Action Plans
CULTURE COUNTS: Variations in Cultural Value Systems and its Impact on Mental Health and Wellness
Culture is central to mental health and wellbeing. A person's cultural background influences how they perceive mental illness, and how much stigma they attach to it. Culture also determines whether or not a person seeks help, when and where they seek help, their coping skills and social supports. Sharing her personal recovery story and professional experience, Gayathri will explore how culture influences recovery and reintegration.
Upon participating in this Cultural-responsive training, participants will:
Understand concepts of cultural legacies, and social inheritance
Explore variations in cultural value systems and its impact on mental health and wellness
Learn three tips to create person-centered, culturally-responsive, recovery-oriented, holistic systems of care
THE HEALING POWER OF PEERS
Most of us have felt the healing power of empathy when sharing difficult situations with someone else who has experienced similar distress. This principle, that individuals who have had the same life experiences can help each other, is the basis of peer support.
As a Certified Peer Specialist, Gayathri has mentored people struggling with mental health issues and their families in the U.S. and India to overcome barriers to recovery and achieve wellness.
Upon participating in this training, participants will:
Learn about the most essential elements of peer support
Explore how peer support can optimize individual and family wellbeing
Discover the benefits of peer support
Related Speakers View all
---
Kevin Hines

Brain Health Advocate & Storyteller

Amanda Beard

Olympic Gold Medalist, Co-Founder of Beard Swim Co. ...

Eduardo Briceño

Growth Mindset and Improvement Expert; Co-Founder & ...

Eva Longoria

Award-Winning Actress, Producer, Director, Activist,...

Elyn Saks

Author of "The Center Cannot Hold" on Her Battle Wit...

Linnda Durre, Ph.D.

Psychotherapist, Consultant, Speaker, Trainer, Publi...

Mike Sullivan

Award-Winning Singer-Songwriter, Author & Motivatio...

Dixon Chibanda

Psychiatrist and Director of the African Mental Heal...

Parul Sehgal

Parul Sehgal is an editor for The New York Times Boo...

Chrissy Teigen

Model, Author & Television Personality

Mayim Bialik

Neuroscientist & Actress, Known For "The Big Bang Th...

Dr. Deborah Tannen

Relationship & Communication Expert

Leslie Sbrocco

Award-Winning Author, Writer, Speaker, Wine Consulta...

Iris Krasnow

Best-Selling Author & Relationship Expert

Malaak Compton

Activist & Philanthropist

Sarah Michelle Gellar

Actress; Known for "The Grudge" and "I Know What You...

Rebecca Walker

Bestselling Author & Founder of the Third Wave Femin...

Jeff Yalden

Teen Motivational Speaker & Mental Health Advocate, ...

Montel Williams

Emmy Award-Winning Talk Show Host Best Known For "Th...

Kathleen Kennedy Townsend

Maryland's 1st Female Lt. Governor
More like Gayathri