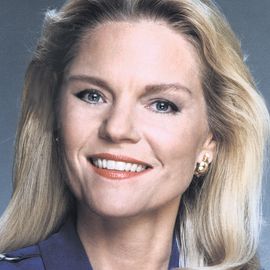 Gayle Cotton is a National Emmy Award Winner and author of the Bestselling Book 'SAY Anything to Anyone, Anywhere! 5 Keys to Successful Cross-Cultural Communication'. She is President of Circles Of Excellence for Corporate Education and a distinguished, highly sought after speaker. She has made keynote presentations for over 50 Fortune 500 companies, and has been a guest on NBC News, Good Morning America, PM Magazine, PM Northwest and Pacific Report. Gayle was the first American to be accepted as a member of the 'European Marketing and Sales Experts' and is a Certified Expert in the 'Executive Foundation for International Communication'. She is a Global Resource for Young Presidents' Organization (YPO), World Presidents' Organization (WPO), Chief Executives Organization (CEO), and Entrepreneurs' Organization (EO).
An internationally recognized authority on Cross-Cultural Communications, Gayle has business bases in Dallas, Texas and Geneva, Switzerland. She travels worldwide educating, entertaining and inspiring others with her fresh and unique approach. Giving new meaning to the concept of creativity and productivity, she is considered to be on the leading edge of business communications. She offers customized Keynote Presentations and Training or Coaching on the topics of Cross-Cultural Communication, Customer Service, Diversity, Interpersonal Communication, Management & Leadership, Presentation Skills, Sales & Negotiations, Stress Management, Team Building, and Time Management.
She is an internationally recognized authority on the science of Neuro-Communications, and the author of, The 5 Keys To Unlocking Successful Cross-Cultural Business Communications.
Known for her expertise in Cultural Science and Peak Performance Achievement, Gayle has traveled worldwide educating, entertaining and inspiring others with her refreshing approach to communications. Giving new meaning to the concept of creativity and productivity in the business world, her seminars are considered a breakthrough in understanding for our multi-cultural communication processes.
Videos
---
Speech Topics
---
SAY Anything to Anyone, Anywhere! 5 Keys to Successful Cross-Cultural Communication
This lively and humorous topic is based on Gayle Cotton's Bestselling Book "SAY Anything to Anyone, Anywhere! 5 Keys to Successful Cross-Cultural Communication". The strength of any multi-cultural business relationship depends entirely on the ability to effectively communicate and to establish rapport and trust. Which came first…the chicken or the egg? Explore how 'Cultural Science' impacts our mother tongue language, our verbal communication, our tonality, body language, and ultimately our global business expectations. Are you 'in time', 'on time' or 'out of time'? Be aware of cultural time differences and expectations for 'on-time' and 'flexible-time' cultures. Learn to proactively avoid miscommunication interpersonally, on the phone and by email. This is a lively, interactive topic that has lots of humor and take-home value!
Start Pro-Active: In Multi-Cultural Relationships Rapport Secrets: To Transcend Cultural Differences Be Productive: Seize Cultural Opportunities And Dissolve Cultural Barriers Develop Strategies: For Different Behavior And Relationship Styles Success Leaves Clues: Multi-Cultural Navigation
Global Business Etiquette: 'Cultural Clues', 'Do's & Taboos'!
Explore the 'Cultural Clues' and 'Do's &Taboos' for developing successful relationships in today's global business and social environment. Avoid those all too embarrassing 'Faux Pas', and learn to bridge the cultural gap in any culture.Understand the Cultural Clues for Europe, Asia / Pacific, Latin America & The Middle East. This is a lively, interactive presentation that will take you on a brief journey around the world to learn what everyone needs to know about 'Global Business Etiquette'. It highlights examples that often border on hilarity, and has tremendous take-home value. Have fun and enjoy the trip! Multi-Cultural Communication:Is What You Say What You Mean? Email Etiquette: How 'Intimate' Is Your Email?" Cultural Clues: "Do's & Taboos" For Global Business Etiquette Paradoxes Of The English Language:Why Are Boxing Rings Square? Bloopers! The Humorous 'Faux Pas'
Improving Interpersonal Communications: Is What You Say What You Mean
Take a look at the comical challenges we all have with the words we use in our interpersonal communications. Add a littletonality and body language, and it's no wonder we have communication mishaps!
"The meaning of your communication is evident by the response you get." Learn the 'people-reading'skills needed to become pro-active rather than reactive in the communication process. Maximize effective communication and minimize miscommunication. This lively, interactive topic creates the 'open channels' necessary to improve interpersonal communications. Take home some'rapport secrets' that will enable you to establish morecomfortable, productive connections. Gayle's insightful and energetic approach will help you improve both your business and personal relationships.
Improving Interpersonal Communications: Use effective Words, Tonality And Body Language Incorporate 'People-Reading' Skills: Be Pro-active Rather Than Reactive In Your Communication Rapport Secrets… Create Comfortable & Productive Business And Personal Relationships
The Art of Successful Presentation Skills: It's Beyond Words!
Could you use a littlepolishin your presentation or a littlefinesse in your style? Whether you make presentations for meetings, small groups, or from a podium for multitudes, this interactive workshop is designed for you. Making successful presentations is an art,and one that's not easily achieved! Excellent presentations are 90% preparation and 10% presentation. Learn to create the most effective type of presentation for your audience. Take home some high-level tips to enhance your audience rapport, including with multi-cultural audiences. Learn to prepare effective openings, transitions, and closings. Develop the necessary skills for appropriate delivery with visuals. Last but not least, enhance your physical presentation style, which includes voice dynamics and body language. Lots of audience interaction for great take home value!
Confidently Create Audience Rapport:With audiences ofany size and type, including multi-cultural audiences. Prepare Better Presentations: Incorporate effective openings, transitions, and closings. Utilize appropriate isualization techniques.
Enhance Your Physical Presentation Style: By breathing properly,and using effective voice tone, inflection, gestures and body language.
Time Mastery & Stress Management: 1440 Minutes. Use It or Lose It!
Time is like a bank, but who manages the 'Time Bank'? Is it you, or is it time? Everyone gets the same 60 seconds a minute, 60 minutes an hour, 24 hours a day, and 365 days a year. Every morning we are credited with 480 minutes in an 8-hour work day, and 1,440 minutes every 24 hours. Each night what we don't invest in good purpose is written off as a loss! How can one hope to gain effectiveness in better managing oneself and their precious credit of daily minutes? Time Mastery & Stress Management will help you better understand your habits in self-management, and develop strategies to maximize time and minimize stress. This lively, interactive presentation can make the difference between being in the red or the black of the time bank... and your health.
Awareness Is The First Step: Who Is Robbing Your Time Bank? Time Mastery: Are You The Master Of Time, Or Is Time The Master Of You? Develop Strategies: To Organize, Plan, Minimize, And Eliminate Stress Management: Maximize Healthy Stress, And Minimize Unhealthy Stress The Top 20 Tips: For Time Mastery & Stress Management.
Gayle's Story: 3 Strikes! Awareness Is the First Step
Gayle started working as a Corporate Trainer, Executive Coach, and Keynote Speaker for multi-national companies in Geneva, Switzerland in the early nineties. As an expert in Cross-Cultural Education, she quickly discovered that she had 3 strikes against her. She was American, female, and blonde, and there was no doubt that the "Dumb Blonde Jokes" were global! Determined to beat the odds, Gayle adapted to become very successful on a global basis, and in the late nineties, she incorporated the company "Circles Of Excellence" in Dallas, TX. Having married a Frenchman her name was now Gayle Cotton-Delpierre, however that name wasn't easy for the Texans to pronounce, and she rapidly become known as Gayle Cotton Del Prairie! Once again Gayle adapted by using 'Cotton' as her professional name, which she found worked very well in Dallas. Gayle's story is an inspirational journey full of humor, humility, and hope for anyone working in different cultures.
How Many Strikes Against You: Awareness Is The First Step Becoming The Librarian: Adapting For Where You Are The Cultural Layer Cake: How Many Layers In Your Cake? Going Beyond The 3 Strikes: Question to Ask Adapt Your Style: Awareness Is the first Step!