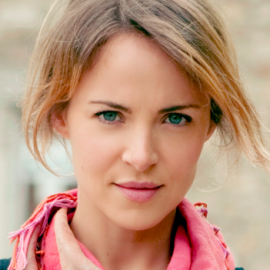 "It's an amazing time to be an independent artist." So decides maverick singer-songwriter Gemma Hayes, she of the powerful yet fragile vocal in a world of foghorn robo-pop giants. "I've noticed so often now, when something's not forced upon you, it can just happen. Like the Gotye song, Somebody that I Used To Know, I found that really inspiring. It's like...the people have spoken!"
Gemma Hayes fourth studio album, the exquisitely introspective Let It Break was released in her native Ireland on her own Gemma Hayes Music label in May 2011. By summer 2012, the people had spoken, 'the collective voices of fans, approving local critics and worldwide online supporters soon propelling Ireland's best-kept secret out from the import-only shadows and into the global light, and now "properly" released in the UK this October.
Let It Break is magical: a delicate drift through the honeycomb catacombs of Gemma Hayes' imagination, a stunning dreamscape of acoustic reverie, electronic melancholy and tinkling indie-folk intricacy. Songs of love, loss and loneliness, this is music for emotional immersion: from the euphoric electro-folk of There's Only Love to the mellow Sorrow Be Gone, as intimate and mournful as classic Nick Drake. From the glittering 80s indie-rock of Keep Running (as mesmerising as Pornography-era The Cure) to the acoustic intensity of Waiting For You, recalling Mazzy Star in the 1990s in a wry and bittersweet tale. "I'm just waiting for you," she lilts, tantalisingly. "I'm just waiting for you...to leave my mind."
Recorded in both rural France and Dublin with her long-time producer David Odlum, the central theme of Let It Break is, decides Gemma, "letting go of the need to control." This is the balmy realm of beauty-in-melancholy, a sonic space you can escape to from the din of everyday life, a headlong dive into a comforting cocoon.
"There's so much chaos and so much noise in the world it kind of keeps us all up in our heads," notes Gemma. "And I wanted to make music that brought us from our heads back into our stomach, our gut. And silence is important. It's not empty, it's completely full, it contains everything."
No wonder she's also a highly in-demand composer of emotional scores for TV and film, signing a movie and TV Sync deal with U.S company Secret Road back in 2008. Her music has appeared in Gray's Anatomy, ER, Private Practise, One Tree Hill, The Vampire Diaries and in 2010 the movie Janie Jones, scoring scenes for Abigail "Little Miss Sunshine" Breslin – "Writing songs from a 13 year old girl's point of view who'd never met her father," as Gemma puts it. In 2010, she was also approached for Pretty Little Liars, the score requiring an urgent cover of Chris Isaak's Wicked Game. Gemma's spectral, goose-bump-gorgeous version went viral on YouTube, the version suddenly downloaded by swathes of teenage America. The people, once again, had spoken.
Born in Ballyporeen, Tipperary in 1977, Gemma grew into a teenage 90s grunge kid besotted with Nirvana, Sonic Youth and the ideologies of musical independence. Living a musical life on the Dublin circuit, in 2001 she signed a deal with independent French label Source (albeit a subsidiary of EMI/Virgin). Debut album Night On My Side (2002) was a stunning alternative-rock debut, produced by Dave Fridmann (Mercury Rev, Flaming Lips) and David Odlum (Josh Ritter, The Frames) throbbing with quiet/loud guitars, psychedelic electronica and beguiling breathy vocals, echoing both U.S alt-rock heroes Belly and Dublin's own My Bloody Valentine. Overnight, she became Ireland's alternative-rock sweetheart, winning Hot Press' Best Female Artist 2002, Woman Of The Year In Music for Irish Tatler and a Mercury Prize nomination.
An auspicious beginning, her fortunes suddenly changed, upheavals at EMI/Virgin seeing the closure of Source and bewildering personnel changes meaning Gemma Hayes was now fully signed to Virgin. Her inner grunge kid was dismayed but she found ways to bend the rules. Second album, The Roads Don't Love You (2005) was recorded in L.A amid the studio presence of hit-single-seeking A&R men. "But I had fun with it," she laughs. "Every night they'd want to go out. So I'd record during the day, they'd leave, I'd scrap it and re-record the parts the way I wanted." Further personnel upheavals meant the album was released and then withdrawn within three weeks (and won her, nonetheless, Best Irish Female Artist 2006 at the Meteor Ireland Music Awards) as Gemma began realising if she wanted anything done round here, she'd have to do it herself. Creating her own label, Gemma Hayes Music, she then fully relocated to L.A from 2006 to 2010.
"And I absolutely loved it," she smiles. "I got back to the core reason why I got into this crazy business, back to the music. I said 'right, I'm gonna record my next album in my kitchen, ask Kevin Shields (My Bloody Valentine) to play guitar on a song or two and ask David Odlum to produce it because they're bloody great. I could do whatever I wanted."
Dreamy third album The Hollow Of The Morning (2008) indeed featured Kevin Shields on guitar for a song. Gemma's creative world, suddenly, opened up like a summertime bloom. "Funnily enough," she twinkles, "as soon as I found my own path and felt free, things started to happen. I signed the Movie and TV Sync Deal."
Today, Gemma Hayes has duetted with Julian Lennon, been name-checked in the song Washington Square by Counting Crows ("I wandered the highways from Dublin to Berkeley/And I heard the songbirds of Ballyporeen") and is currently scoring the full soundtrack for Mad Men producer Michael Uppendhal's forthcoming movie Right Angle.
She remains a contemplative, singular voice in a crowded, frenetic world, finding her natural musical kinship not in today's spectrum of female singer-songwriters, but in fellow maverick outsiders. "Bon Iver, Sigur Ros," she nods, "that's what inspires me, musicians who are a world unto themselves." This October she brings her raw, soul-shivering shows to the U.K where she'll doubtless provoke the kind of swoon that will take you from your head to your stomach. ''And that's all I want to do, make people feel something, good or bad. Just bring them back to themselves, out of their heads. Y'know?"
Videos
---
Related Speakers View all
---
Inara George

With her crystal-clear voice, Inara George inhabits ...

Share Ross

CEO at Video Rockstar University; Speaks on How to G...

Samantha Jade

Samantha Jade Gibbs, known as Samantha Jade, is an A...

Colleen Ballinger (Miranda Sings)

Comedian, Actress, and Singer; Best Known as her Int...

Nelly Furtado

Singer, Songwriter Known for "Promiscuous"

Stephanie Quayle

Country Musician

Dannii Minogue

Singer, Songwriter, Actress, Fashion designer

Adele

English Singer-Songwriter

Emily Osment

Emily Jordan Osment, is an American actress, singer-...

Butterscotch

Vocal Percussionist Who Defies Gender & Other Social...

Toby Sebastian

Toby Sebastian is a British musician and actor

Chance Anderson Band

Country Band; "Would It Kill You To Kiss Me"

The Wild Feathers

Rock 'n' Roll Band From Nashville

Dean Brody

Dean Brody is a Canadian country music artist. Origi...

Redlight King

Redlight King is the songwriting project of Mark Kas...

Peter Wolf

Peter Wolf is an American rhythm and blues, soul and...

Billy Gaus

Founder / CEO SongCircle , a global support Communit...

Laura Jansen

Laura Jansen is a Dutch-American singer-songwriter b...

The Divine Comedy

The Divine Comedy are a chamber pop band from Northe...

Colin Meloy

Colin Patrick Henry Meloy is the lead singer and son...
More like Gemma