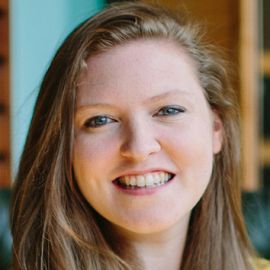 Gemma is not your usual Maths nerd. She is a creative Scottish science-lover, obsessed with tech, design, Irn Bru and pi, and everything she does reflects this sheer passion for knowledge.
Gemma is Co-Founder of Science: Disrupt - an organization connecting the innovators, iconoclasts & entrepreneurs intent on creating change in science. Science: Disrupt produces podcasts events and editorial, and has brought together a large community (both on and off-line) of brilliant thinkers and do-ers.
Gemma focuses on biotech, energy, space, health, advanced computing & changing the way we do academic research and is also a Freelance Writer, writing for The Guardian, the BBC, Singularity Hub, Adweek, Imperica & Ogilvydo, covering science, tech, culture, and politics. She is also a Podcast Producer beyond Science: Disrupt, creating Siemens' first audio interview series. She particularly focuses on the cultural effects of technological and scientific advancements and postulates how we can best use these technologies and inventions as a society.
Gemma is an Expert Advisor for the European Commission, specializing in health, biotec,h and space, and is one of the World Economic Forum's Global Shapers. She is also an advisor to SXSW and to the International Academy of Digital Arts and Sciences.
Gemma is an International speaker having delivered keynotes at SXSW, TEDx, WPP Stream, Cannes Lions, and Dubai Lynx, and is always keen to engage in lively debate around the topics she is set to tackle.
Previously, Gemma was the Tech Innovation Strategist at Ogilvy Labs, and was responsible for connecting startups, government organizations, universities and large corporates with Ogilvy clients and agencies – all in the name of advancing the world of advertising and marketing through technology and science.
Gemma has been an Investment Banker at J.P. Morgan, a door-to-door charity saleswoman for The Children's Trust & Practical Action, a sous chef for a local village pub, a science teacher for Shell, a kids' camp cook in Maine, a Maths Student at St. Andrews and a waitress at the Savoy…it's safe to say Gemma is a curious explorer and bundles her vast career background into a tapestry of expertise.
In her spare time, Gemma is an avid drawer and painter, she plays piano and guitar, and inhales as many books, podcasts and longreads as humanly possible. She is also partial to a spot of power-lifting, and is learning to fly..!