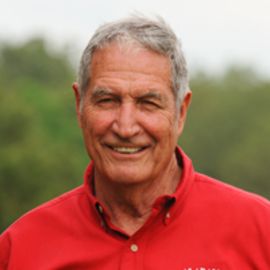 Gene Stallings
Head Coach of 1992 NCAA Football National Champions; Former NFL and NCAA Champion; Philanthropist and Speaker
Gene Stallings was born March 2, 1935 and is a former American football player and coach in the United States. He played college football at Texas A&M University (19541956), where he was one of the "Junction Boys," and later served as the head coach at his alma mater from 1965 to 1971. Stallings was also the head coach of the St. Louis/Phoenix Cardinals of the NFL (19861989) and at the University of Alabama (19901996). Stalling's 1992 Alabama team completed a 130 season with a win in the Sugar Bowl over Miami and was named the consensus national champion. Stallings is currently a member of the Board of Regents of the Texas A&M University System. He was inducted into the College Football Hall of Fame as a coach in 2010.
In 1958, Stallings joined Bear Bryant's original staff at the University of Alabama as a defensive assistant. He was on hand for two of Alabama's national championship seasons, in 1961 and 1964.
Shortly after helping Alabama win the 1964 national title, Stallings was named the head coach of his alma mater, Texas A&M, at the age of 29. He coached the Aggies for seven seasons compiling a record of 27451. Under his tenure, the Aggies won the Southwest Conference in 1967.
In 1972, Stallings joined the staff of the Dallas Cowboys as Tom Landry's secondary coach. He remained with the Cowboys for 14 seasons, and helped them win Super Bowl XII.
In 1986, Stallings was named the head coach of the St. Louis Cardinals. In parts of four seasons, Stallings compiled a 23341 record with the Cardinals and was the head coach during the franchise's move to Arizona. He came closest to a winning season during the Cardinals' first two years in Arizona, in 1988 and 1989.
Stallings returned to Alabama as head coach in 1990. His first team finished with a 75 record, including a 347 loss to Louisville in the 1991 Fiesta Bowl. Following Harold Drew, Stallings became only the second Alabama head coach since the renewal of the Iron Bowl in 1948 to defeat Auburn in his first attempt; Dennis Franchione became the third in 2001. Stalling's 1991 squad finished the season with an 111 record, including a 3025 victory over the Colorado in the 1991 Blockbuster Bowl.
In 1992, Stalling's experienced defensive unit led the team to an undefeated regular season and a berth in the first SEC Championship Game where Alabama defeated Florida, 2821, giving Alabama its 20th SEC title. Following a 3413 victory over the heavily favored Miami in the 1993 Sugar Bowl to cap a perfect 13-0 season, Stallings' 1992 team won the first Bowl Coalition national championship.
In 1993, Stallings' squad won a second straight SEC West Division title, compiling a 931 record. However, the Tide lost to Florida in the SEC Championship Game. In 1994, Stallings' team finished the regular season with a record of 110, an 80 record in the SEC, and captured its third straight SEC West Division title. However, they lost the SEC title game for the second year in a row to Florida. Alabama finished the 1994 season with a 121 record, including a 2417 victory over Ohio State in the Citrus Bowl.
After an investigation that ran from late 1993 to August 1995, the NCAA found Alabama guilty of four major rules violations during the 1993 season. Among other consequences, the Crimson Tide were barred from postseason competition, including the SEC Championship Game and bowl games, during the 1995 season.
Stalling's 1994 team proved to be tremendously successful, as Alabama finished the regular season undefeated before losing to Florida in the SEC Championship Game. The team concluded the season by defeating Ohio State in the Citrus Bowl to finish the season 12-1. Alabama went 83 in 1995, the only season between 1992 and 1996 that Stallings didn't lead the Crimson Tide to the SEC Championship Game. In 1996, Stallings' team won ten games and earned a berth in the SEC Championship Game, where they lost to again to Florida, which eventually won the national title that season. Stallings announced on November 23, 1996 that he would resign at the end of the season. He completed his tenure at Alabama with a 1714 win over Michigan in the 1997 Outback Bowl on January 1, 1997. Stallings compiled an official record at Alabama of 6225 (70161 if the 1993 forfeits are disregarded).
Stallings co-wrote the book "Another Season: A Coach's Story of Raising an Exceptional Son" with AP journalist Sally Cook, which described his love for his son, John Mark Stallings, who was born with Down syndrome. John Mark, also known as "Johnny," was a dedicated follower of his father's career, a longtime Crimson Tide fan, and a tour guide in the Crimson Tide facilities. John Mark died on August 2, 2008 due to a congenital heart condition. Two facilities at the University of Alabama were named for the younger Stallings, the Stallings Center that serves as home to the RISE Center for young children with disabilities, in 1994, and the equipment room in the University of Alabama football building in 2005. Most recently, Faulkner University in Montgomery, AL named its new football and soccer field after John Mark Stallings on October 8, 2010.
Videos
--- Speech Topics
---
Creating a Championship Team.
Legendary University of Alabama head coach Gene Stallings knows how to build and lead a great team. In his presentations, he outlines the critical teambuilding and goal-setting skills needed to create a championship team, and he addresses overcoming adversity and how to motivate others to inspire peak performance – the same expertise that led him to be inducted into the College Football Hall of Fame and twice named the Southeastern Conference Coach of the Year. He imparts this one-of-a-kind insight while sharing fascinating stories and examples from his football career.
News
---
Gene Stallings to Speak at Annual Banquet
Hall of Fame coach Gene Stallings will be the guest speaker at the 2016 Lamar University Football Banquet. The event will take place Sunday, Aug. 28, at 6 p.m. in the Montagne Center. The banquet will serve as the Golden Triangle's first opportunity to meet the 2016 LU players and coaches.
Gene Stallings in Rocket City for Rainbow Omega Fundraiser
The Former Alabama Football Coach said, "The Rainbow Omega people came to my office about 14 years ago with just, they just said we've got a dream. And they've done you just can't believe how much they've done for the community of the retarded adult."
Related Speakers View all
---
Coach Ken Carter

Coach, Author, Educator & Inspiration for the Film "...

Jim Morris

Known for His Brief MLB Career & Subject of Disney's...

Pat Williams

Motivational Speaker & Sports Executive; Senior Vice...

Vince Poscente

Former Olympic Speed Skier, Best-Selling Author, Lea...

Vince Papale

Former NFL Player & Inspiration for the Movie "Invin...

Dave Dravecky

Former Professional Baseball Player; Cancer Survivor...

Rudy Ruettiger

Motivational Speaker, Author & Inspiration for the A...

Brian Holloway

Five-Time NFL All-Pro; Motivation & Team Building Ex...

Bobby Bowden

Legendary Former Head Football Coach for Florida Sta...

Jim Abbott

Former One-Handed Major League Baseball Pitcher

Danny Wuerffel

Heisman Trophy-winning Quarterback & Philanthropist

Roger Crawford

Hall of Fame Athlete; First & Only US Professional T...

Terry Bowden

Football Coach & Analyst

Dale Brown

Legendary LSU Basketball Coach

Linda Armstrong Kelly

Single Mother of Lance Armstrong; Philanthropist & A...

Mike Schlappi

Paralympic Medalist

Magic Johnson

Basketball Hall of Famer, Entrepreneur, Philanthropi...

Shawn Harper

Former NFL Football Player, Successful Businessman &...

Joe Torre

Chief Baseball Officer for Major League Baseball; Na...

Emmitt Smith

Leading Rusher in NFL History, Three-Time Super Bowl...
More like Gene