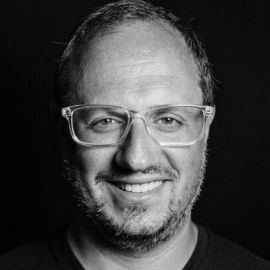 Geoffrey Colon is the voice at the intersection of marketing, tech, and popular culture. Thinking is his commodity. DJ, data punk, podcaster and author, Geoffrey is a Communications Designer at Microsoft in Redmond, WA for Microsoft search advertising (Bing).
Colon has written for or been quoted in various publications and media outlets including Fast Company, The Huffington Post, The Guardian, Wall Street Journal, Billboard Magazine, Advertising Age, Digiday, Branding Strategy Insider, Entrepreneur and The Los Angeles Times. He has also appeared on Cheddar TV, NASDAQ Live, WABC-AM New York, BOOKSTR Talks and Marketplace on NPR. He is an avid speaker on the global marketing conference circuit. Disruptive Marketing is his first book.
Geoffrey is producer/host of the video series "The Disruptive Marketer" and podcast "Disruptive FM." He blogs regularly on Branding Strategy Insider. He also contributes original thought leadership to LinkedIn, Medium and the Bing Ads blog.
Prior to joining Microsoft in 2013, Geoffrey was vice president of digital strategy at Ogilvy & Mather in New York City.
Colon has spent 20 years in various marketing capacities working for and with several of the most influential brands including Red Bull, Spotify, Netflix, American Express, The Economist, Coca-Cola, IBM, WWE and Food Network. He spent a few years in the New York City tech startup world and several years in the music industry as DJ Geoffe where he released over a dozen commercially available house music compilations. He has also worked with several high profile musical artists including Britney Spears, Christina Aguilera, The White Stripes and Moby.
He is a 1994 graduate of Lehigh University with a Bachelor of Arts degree in Journalism and Mass Communications.
Geoffrey resides in Kirkland, WA with his wife and two daughters after spending over two decades in Brooklyn, NY and Maplewood, NJ. He invites his readers to converse in real time with him on Twitter, LinkedIn, Snapchat, Tumblr, Instagram, SoundCloud, YouTube and many more emerging communication platforms.
Speech Topics
---
Disruptive Marketing
Today we know that marketing is as much of a science as it is an art. That we have to use both our left and right brains to be successful. When we are trying to become physically fit in this day and age, we have the advantage of using wearable devices and analytics to help us keep track of our progress. The same is now true in the majority of marketing. We should all realize by now that in the world of offline and online, tiny screens and "read, write, remix" communications that nothing happens by chance. Every GIF, Vine, video or search and social 'sponsored' ad that we see is most likely the result of a DESIGNED, DELIBERATE and DISCIPLINED marketing strategy in an organic feeling world.
Modern communication forces Fortune 500 companies, C-Suite execs, entrepreneurs, small businesses and startups with little to no resources to adopt the technology, the platforms and behavior of its customers in order to feel like a partner, an ally, a friend. Customers have the upper hand and will always move faster than businesses who are mired in decisions by committee, lack or resources or where to allocate resources for biggest business impact.
In this discussion, Pay-Per-Click specialist and social data expert Geoff Colon of Microsoft will present how to best approach your content marketing strategy:
How do you find your core group of early adopters who will be your most loyal customers?
How do you use analytics as a core part of your planning and results measurement strategy?
While content may be king, distribution is queen and guess what piece yields more power on the chess board? When and where do you invest in search engine marketing and paid social ads to help with conversion rate optimization?
Real decisions are not made solely from the logical areas of your mind but the emotional areas rooted in biology and evolution. How are you using "sight, sound and motion" to connect with customers so they can ingest content in an emotionally resonant form that is most friendly to their learning/adoption style?
How to make your organization more disruptive while being more disciplined in your marketing approach whether you are a growth hacker or a CMO.
A World of Digital Nomads
Understand why owning everything on your digital properties and websites isn't customer-centric or a best practice anymore.
Hack the rules to come up with innovative and creative marketing that drives more results.
Understand why branded content is an oxymoron and why it's best to design your content like customers for better immersion.
Think about how people live and behave in the world and use it as the starting point of all modern marketing strategy--a total inversion from how marketing has been taught and executed for the last 50 years.
Future Shock: Marketing In An Era of Information Overload
Why ATTENTION and RELEVANCE are every company's Key Performance Indicators in the 21st Century and why tracking of engagement, ROI and other vanity metrics is meaningless.
Related Speakers View all
---
David Beebe

CEO of Beebe Content & Emmy Award-Winning Producer

Scott Shellstrom

Creativity Innovator, Award Winning Creative Directo...

Amber J Lawson

Doing Good At Scale, Global motivational speaker on ...

Stephen Birchak

One of the top speakers in the nation for how to use...

Amy Oestreicher

TEDx Speaker, author, artist, HuffPost columnist, an...

Somto Okeke Charles

Somto Okeke Charles is a vibrant & innovative young ...

SJ Murray

Emmy-Nominated Writer, Producer & Story Designer

Scott Galloway

Founder of L2 & Clinical Professor of Marketing at t...

N. Hamilton-Smith

British Milliner, Recording Artist, Author, Film Mak...

David Byrne

Musician, Artist & Author; Co-founder of the Band "T...

Igor Beuker

World Authority on Marketing and Media

Montel Williams

Emmy Award-Winning Talk Show Host Best Known For "Th...

Anna Deavere Smith

Award-Winning Actress, Playwright, Social Commentator

Kathy Ireland

CEO & Chief Lifestyle Designer of Kathy Ireland Worl...

Daniel Burrus

Technology Futurist, Business Strategist & Hall of F...

Sir Richard Branson

Businessman, Founder of Virgin Group

Curtis Aikens

Celebrity Chef & Food Network Pioneer

Michael DiTullo

Passionate advocate & experienced practitioner of de...

Jonathan Sandys

Speaking on the life & leadership of my great-grandf...

Jared Cluff

CMO at Blue Apron
More like Geoffrey