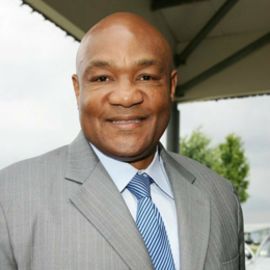 George Edward Foreman was born to J.D. and Nancy Foreman on January 10, 1949, in the town of Marshall, Texas. As an impoverished youth, he was saved by the Lyndon B. Johnson Job Corps, a program developed to help disadvantaged kids by teaching them vocational job skills. Foreman traveled to California where he met Doc Broaddus, who was a Job Corps counselor and a boxing coach. It was Broaddus who encouraged Foreman to become a boxer.
Once he began to train at the gym, Foreman rapidly established an impressive amateur record. The culmination of his amateur boxing career came at the 1968 Olympics in Mexico City, where he won a gold medal in only his 25th amateur fight. In 1969, Foreman turned professional and within two years, Foreman was ranked the No. 1 challenger by the WBA and WBC. After becoming a heavyweight champion, Foreman successfully defended his title twice. He beat Puerto Rican heavyweight champion Jose Roman in only 50 seconds, which at the time was the shortest heavyweight championship match ever. Foreman also beat Ken Norton, who had just beaten Muhammad Ali, in a mere two rounds. Winning those two fights then set up one of the most famous fights in history: "The Rumble in the Jungle" between Foreman and Muhammad Ali, which he ultimately lost.
Foreman gave up boxing in 1977 and became a born-again Christian. He was ordained a minister in 1978 and began preaching in his hometown of Houston, Texas. In 1984, he founded the George Foreman Youth and Community Center, a non-denominational place for kids who need direction like he once did. Foreman saw how much the Center was helping people so he was determined to do what was necessary to keep it open. So, in 1987, after not fighting for almost 10 years to the day, Foreman returned to the ring. At the age of 45, Foreman became the oldest fighter ever to win the heavyweight crown as well as the boxer with the most time between one world championship and the next. Foreman ultimately retired in 1997 after compiling an amazing 76-5 career record.
Since the early 1990s, Foreman had discovered his talent for salesmanship, and by the end of the decade, he was making millions off of his appearances in infomercials marketing the George Foreman Lean Mean Grilling Machine. To date, more than 100 million of the units have sold worldwide.
Foreman also spent over a decade promoting Meineke Car Care Centers and grew the business to over 1000 franchises. He has now successfully launched a line of environmentally safe cleaning products, exclusive line of personal care products, a prescription shoe for diabetics to prevent amputations, a restaurant franchise called UFood Grille, 10 books, and the list continues to build.
Foreman tends to his ministry at The Church of the Lord Jesus Christ where he preaches four times a week. He also loves spending free time with his family on his ranch in Marshall, Texas.
Speech Topics
---
How to Get Up When Life Knocks You Down
Empowering Youth to Move Off the Ropes & Into the Ring of Success
Selling Your Brand: The George Foreman Grill & the Healthy Eating Revolution
The Art of Fighting in Business & in Life