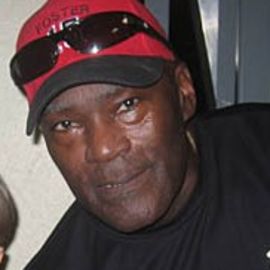 George Arthur Foster is a former left fielder and right-handed batter in Major League Baseball who played for the San Francisco Giants, Cincinnati Reds, New York Mets and Chicago White Sox from 1969-1986.
In his career he hit for a .274 batting average, with 348 HRs, 1,239 RBIs, 1,925 hits and 986 runs scored in 1,977 games played.
Foster began his career in the San Francisco Giants organization, but the Giants already had promising young outfielder Bobby Bonds. As they believed Foster was expendable, the Giants dealt him early in the 1971 season to the Reds for Frank Duffy and Vern Geishert. Foster made the Reds lineup as the starting center fielder (replacing an injured Bobby Tolan) almost immediately and showed flashes of his power by hitting 10 home runs and driving in 50 runs in his first season as a Red.
For the 1972 season, however, Tolan was healthy and won the Comeback Player of the Year award playing center and Foster was platooned in right field with Cesar Geronimo, another young Reds outfielder, for the next two seasons. In 1974, the Reds dealt Tolan, moved Geronimo to center, and placed a young Ken Griffey Sr. in right. Foster was still a backup, as the Reds had Pete Rose in left.
Finally, early in the 1975 season, Reds manager Sparky Anderson made the move that would enable Foster to emerge as a star. He moved Rose to third base to save his aging legs and to get Foster's powerful bat in the lineup every day. Foster responded by hitting 23 homers that year and being a vital cog in the "Big Red Machine" for the next six years.
A five-time All-Star (1976–79, 1981), Foster was a member of the 1970s Big Red Machine, leading the league in home runs in 1977-78, runs batted in from 1976–78, and OPS in 1977.
In 1977, Foster hit 52 home runs, making him the only major league player to belt 50 or more homers in a single season during a 25-year period (between Willie Mays with 52 in 1965 and Cecil Fielder with 51 in 1990). He also batted in an NL leading 149 runs. In recognition of his accomplishment, Foster received the NL's MVP award.
Although he was not able to hit 50 or more homers again in 1978, he paced the NL with 40 and in RBIs with 120. In 1981, at a point in his career when it looked like he would one day rank among the game's all-time greats, Lawrence Ritter and Donald Honig included him in their book The 100 Greatest Baseball Players of All Time.
After being traded by the Reds to the New York Mets on February 10, 1982, Foster was given a five-year, $10 million contract ($22,538,914 in current dollar terms). All of Foster's power numbers declined—his Mets' high in homers was 28 in 1983, and his batting average as a Met was never higher than the .269 he achieved in 1984. He was released by the Mets in August 1986.
Foster was then claimed off waivers by the Chicago White Sox, and saw action in 15 games for them, his last being on September 6, 1986 before being released the following day.
Foster was inducted into the Cincinnati Reds Hall of Fame in 2003. He was a celebrity participant in the 2010 Cincinnati Reds/Findlay Market Opening Day Parade and he frequently returns to Cincinnati for the annual RedsFest and other reunion events. He was inducted into the Alabama Sports Hall of Fame in 2002.
Related Speakers View all
---
Carlton Fisk

Former Red Sox & White Sox Hall of Fame Catcher

Joe Morgan

Former MLB Second Baseman; Inducted into the Basebal...

Reggie Jackson

Five-Time World Series Champion & National Baseball ...

Dave Parker

David Gene Parker was born June 9, 1951 in Calhoun, ...

Ken Griffey Sr.

Former MLB Player for the Cincinnati Reds, New York ...

Tom Seaver

Most baseball fans will undoubtedly best remember To...

Pete Rose

Former Major League Baseball Player & Manager; All T...

Willie McCovey

Willie Lee McCovey was born January 10, 1938 in Mobi...

Gaylord Perry

Gaylord Jackson Perry was born September 15, 1938 in...

Barry Larkin

National Baseball Hall of Fame Inductee, 12-Time MLB...

Andre Dawson

Former Outfielder for the Montreal Expos & Chigaco C...

Ozzie Smith

15-Time MLB All-Star & National Baseball Hall of Fam...

Tom Glavine

Former MLB Pitcher for the Atlanta Braves

Bob Gibson

Hall of Fame Pitcher with the St. Louis Cardinals; N...

Johnny Bench

National Baseball Hall of Famer, 14-Time MLB All-Sta...

Hank Aaron

One of the Greatest Baseball Players of All Time; Se...

Rickey Henderson

African American professional baseball player

Patrick Ewing

Men's Basketball Coach at Georgetown University; Hal...

Phil Niekro

Philip Henry Niekro was born April 1, 1939 and nickn...

Ralph Kiner

Ralph McPherran Kiner was born October 27, 1922 and ...
More like George