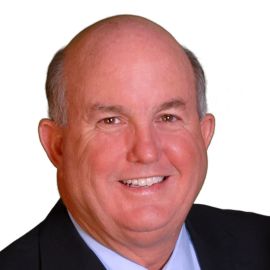 George Hedley
Construction Business Owner; Providing "Hands-on," Fun, Interactive Management Programs
George Hedley, CSP, 'The Business-Builder,' is a business building expert. He is an entrepreneur, business owner, and the recognized authority on how to build a growing business into a company that consistently produces bottom-line results, profits, wealth and equity. He has authored several books including: "On-Purpose...On-Target!"; "Everything Contractors Know About Making A Profit!"; and, "Conversations On Leadership."
He founded & built his major commercial construction company from $0 to $50 million dollars in only 7 years! For his accomplishments, George received the nationally recognized award "Entrepreneur of the Year" by Ernst & Young and "Venture"magazine. To date, he has built or developed over 250 projects valued in excess of $500 million dollars, executed over 10,000 subcontracts, and owns & manages over 750,000 square feet of office & industrial buildings.
George's expertise is based on his real world experience: Leading & managing great people; owning & running a profitable construction, development & investment company; and, getting things done. His business success is the result of long time, repeat customers, focusing on priorities that really count and management systems that always make a profit.
As a founder of multiple businesses, his roles have included CEO, business owner, project manager, field superintendent, estimator, general contractor, subcontractor and real estate developer. George is a graduate of the University of Southern California in Civil-Structural Engineering and has served as President of five industry associations.
Today, along with managing his $75 million construction and development company, George owns HARDHATPresentations presenting keynote speeches and workshops to companies and associations. His 'Profit-Builder' Programs include topics on Building Leaders, Building Profits, Building Customers, and Building Wealth. He also holds in-depth 3-day 'Profit-Builder Circles' for business owners. In addition, George has received the prestigious 'Certified Speaking Professional' designation from the National Speakers Association earned by only 7% of the members.
Speech Topics
---
Most Requested Topics
Profit Driven Leadership: How leaders achieve bottom-line results through people.

Clear Targets = HUGE Results! Get your company and people to achieve BIG goals.

Make People Accountable and Responsible: Ten steps to get your people to do what you want them to do.

Build a Winning Team! How to lead, manage, motivate train and retain great people.

On Purpose…On Target: Balance your business and personal life.

Leading the Future: Innovate and thrive in the years ahead.

Work a Little, Make a Lot! How to build an "on-purpose…on-target business.

The Business Success Blueprint: Build your company to always make a profit.

Sell More Than Price: How to build loyal customer relationships.

Marketing and Sales Strategies That Work: How to attract target customers to call you.
Related Speakers View all
---
Howard Putnam

Former CEO of Southwest Airlines

Dr. Nido Qubein

Award-Winning Speaker and Author, President of High ...

Tim Sanders

Bestselling Author, Technology Pioneer, Expert on Co...

David Goldsmith

Business Forecaster & Leadership-Management Expert

Michael Gerber

Small Business Guru & Author of the Mega-Bestseller ...

Sam Geist

Consultant / Facilitator

Joe Calloway

Bestselling Business Author, Performance Consultant ...

Michael Bergdahl

Former Wal-Mart Executive, Best Selling Author and H...

Garrison Wynn

Comedian & Motivational Business Expert

Troy Hazard

Troy Hazard is the recent Global President of the el...

Mark C. Thompson

Executive Coach & Author

Rob Waldo Waldman

Decorated Fighter Pilot; Power of Relationships & Tr...

Robert Stevenson

Business Speaker & Author of "How to Soar Like An Ea...

Doug Lipp

Former Head of Training at Walt Disney University & ...

Patricia Fripp

Sales Trainer & Presentation Skills Expert; Award-Wi...

Clyde Fessler

Former VP of Business Development at Harley-Davidson...

Danny Cox

Accelerationist, Former US Air Force Fighter Pilot, ...

Sahar Hashemi

Entrepreneur & Founder of Coffee Republic and Skinny...

Josh Linkner

Five-Time Tech Entrepreneur; Hyper-Growth CEO; NY Ti...

Art Turock

Authority on Breakthrough Performance and Achieving ...
More like George