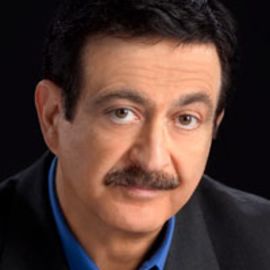 George Noory
Host of the Nationally Syndicated Program "Coast to Coast AM;" Discusses Paranormal Activity, Time Travel, Conspiracies & More
George Noory, host of the nationally syndicated program, Coast to Coast AM, says if he weren't a national radio talk show host he'd be in politics. Heard by millions of listeners, Coast To Coast AM airs on approximately 559 stations in the U.S., Canada, Mexico and Guam.
He has also been seen on History Channel's Ancient Aliens since 2009, appearing in 45 episodes to speak about everything from telepathy to time travel.
While hosting The Nighthawk, a wildly successful, late-night program on KTRS in St. Louis, Noory was recruited by Premiere Radio Networks to guest host on Coast to Coast AM with Art Bell. He became the permanent host of the phenomenally successful over-night program on January 1, 2003, following Bell's retirement. Since then, Noory's audience has continued to grow.
Noory captivates program listeners with his discussions of paranormal phenomena, time travel, alien abductions, conspiracies and all things curious and unexplained. He is driven, he has said, by the desire to solve the great mysteries of our time. From his first days as a radio broadcaster he says, "I've wanted to cover stories that the mainstream media never touch—the unusual, the paranormal and things like that. I learned that broadcast was the best business for exploring these issues, and I've been doing it for 33 years."
He dates his interest in these matters to a book by Walter Sullivan, "We Are Not Alone", that his mother gave him when he was 13. He was hooked.
Prior to his late-night show on KTRS, Noory had an extensive broadcast career. He started in radio at WCAR-AM in Detroit where his first-ever interview was with nuclear physicist and UFO expert Stanton Friedman. From 1974-1978, he served as news producer and executive news producer at WJBK-TV. At age 28, he became the youngest major market news director in the country at KMSP-TV in Minneapolis.
Noory was also the director of news planning and development at KSTP-TV in Minneapolis, was news director at KSDK-TV in St. Louis and the recipient of three Emmy Awards while a news executive.
Noory has released seven books, including "Worker In The Light: Unlock Your Five Senses And Liberate Your Limitless Potential", co-written by best-selling author William J. Birnes. It is Noory's revolutionary guide to spiritual enlightenment, human empowerment, ultimate productivity and absolute happiness.
Noory and Birnes co-authored a follow up in 2009 entitled "Journey to the Light", in which they present amazing first-hand accounts of how ordinary people changed their own lives, transcended their doubts and fears, and unlocked the secrets to their spiritual growth.
In December 2012, GAIAM TV launched "Beyond Belief with George Noory," a new TV show exploring the unknown and mysteries of the universe. The one-hour, weekly series features Noory's informative, investigative and dynamic conversations, as well as some of his favorite guests from the radio program. Taped at GAIAM studios in Boulder, Colo., Beyond Belief with George Noory is available exclusively at beyondbelief.com. Noory has also appeared on the History Channel's Ancient Aliens, SYFY, The Larry King Show and numerous others.
He was born, raised and educated in Detroit. He has three children and six grandchildren. He served nine years in the U.S. Naval Reserve.
Videos
---
Related Speakers View all
---
Bob Edwards

Member of the National Radio Hall of Fame; First Sat...

David Remnick

Editor, The New Yorker

Peter Sagal

Host of NPR's "Wait Wait ... Don't Tell Me!"

Michael Reagan

Eldest Son of President Ronald Reagan, Bestselling A...

Jon Leiberman

Reporter; Television Producer; Radio News Personalit...

Jason Mattera

Emmy-Nominated Journalist, Conservative Activist & A...

Dr. Zorba Paster

Physician & Radio Show Host

Howie Carr

Journalist, Author & Conservative Radio Talk-Show Host

Thom Hartmann

Author & Radio Host

Elvis Duran

Host of New York City Z-100's "Elvis Duran and The M...

Megan Kamerick

Immediate past president, Journalism & Women Symposi...

Rush Limbaugh

Host of "The Rush Limbaugh Show"

Andrei Codrescu

NPR Commentator, "All Things Considered"

Steve Inskeep

TV Host Known for "Morning Edition" & "Up First"

Brian Sullivan

Founder or Precise Performance

David Goodman

Investigative Journalist / Author

Jesse Dylan

Filmmaker & CEO, Freeform / Founder, Lybba.org

John King

CNN Chief National Correspondent & Host of "Inside P...

Ben Stein

Political Economist, Commentator, Author & Actor

Michael Medved

Nationally Syndicated Radio Talk Show Host, Film Cri...
More like George