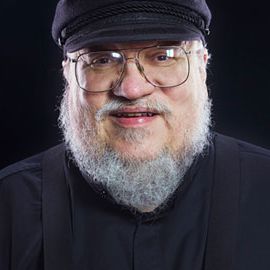 George R.R. Martin
Author of the "Game of Thrones" Series
A leading fantasy author, George R. R. Martin grew up in Bayonne, New Jersey where his world "was five blocks long." He may have spent his early years never straying far from home, but his imagination seemed to take him places. The oldest of three children, Martin liked to watch offbeat and suspenseful television shows, such as "Thriller" and "The Twilight Zone."
Martin started writing in elementary school. He sold monster stories to other kids in his working-class neighborhood. During his high school years, Martin moved on to other subjects. He started writing fan fiction based on the comic books he adored and began creating new superheroes as well. After graduating high school in 1966, he went to Northwestern University where he continued to pursue his passion for writing. He earned a bachelor's and master's degree in journalism.
Martin sold his first short story, "The Hero," to Galaxy, a science fiction magazine, which was published in 1971. Martin also served as an editor on numerous book projects, including "New Voices in Science Fiction" and the "Wild Cards" series.
While he became well regarded in the fantasy and science fiction worlds, Martin had yet to achieve a huge commercial success by the 1980s. He worked as story editor for a remake of the old favorite "Twilight Zone" in 1986, and then became involved with the series "Beauty and the Beast." Weary of the limitations of television, Martin embarked on a new writing project in the early 1990s, a fantasy series inspired by medieval England's Wars of the Roses.
The first installment of "A Song of Ice and Fire" may not have been an overnight success, but the strong word of mouth boosted sales as the series progressed. By the fourth volume, 2005's "A Feast for Crows," Martin found his work at the top of the best-sellers list. His books were introduced to an even larger audience with the critically acclaimed television adaptation of "Game of Thrones," which debuted in 2011. Later that year, Martin published the fifth title in the series, "A Dance with Dragons." Eager fans from around the world snapped up the new book.
While often compared to J. R. R. Tolkien, Martin writes a grittier, earthier type of fantasy fiction than the man who created "The Lord of the Rings." Martin's Westeros is mainly populated by humans who live morally complex lives and follow their own agendas. And his plots are masterfully handled, much like the game of chess he so enjoys.
As an author, Martin has also shown no mercy to his characters, killing off main characters and other favorites unexpectedly. Martin feels that he has "a certain moral obligation" to reflect the reality of war in his fantasy tales.
Videos
---
Related Speakers View all
---
J.K. Rowling

Author of the "Harry Potter" Series

James Patterson

NY Times Best-Selling Author & Reading Champion

Nicholas Sparks

International Bestselling Novelist & Screenwriter, K...

John Green

New York Times Bestselling Author, Known for "The Fa...

Jenny Han

Author of the #1 NY Times Best-Selling "To All the B...

Stephenie Meyer

Author of the Best-Selling "Twilight" Series

Stephen King

Author of Contemporary Horror; Won Best Myster and T...

Elon Musk

CEO & Product Architect of Tesla Motors; CEO/CTO of ...

Hannah Beachler

Academy Award-Winning Production Designer; Best Know...

Kristin Hannah

Award-Winning Author of "The Nightingale" & "Fly Away"

David Benioff

Executive Producer & Writer, Game of Thrones

D.B. Weiss

Executive Producer & Writer, "Game of Thrones"

Ari Popper

Founder & CEO of SciFutures

Benjamin Black

Pen Name of John Banville; Novelist & Screenwriter

Jason Reynolds

Critically Acclaimed Author & NAACP Image Award Winner

Nora Roberts

New York Times Best-Selling Author

Rainbow Rowell

Author Known for "Landline," "Attachments," "Fangirl...

Issa Rae

Actress, Writer, Director & Producer; Star and Creat...

Lee Child

New York Times Bestselling Author, Best Known for th...

Reese Witherspoon

Academy Award-Winning Actress & Producer, Founder of...
More like George