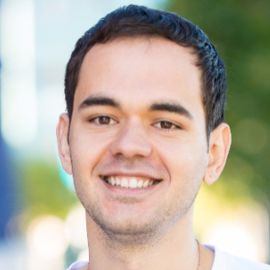 George Ramonov is CTO of Valued, a Slack-first HR solution designed to proactively reward diversity and inclusion, combat abusive conduct, and help companies create a culture where people thrive. Valued enables leaders to get conversational feedback from employees ,analyze anonymized communication data, and optimize organizational design in order to address potential problem areas early on. The mission of Valued is to empower HR leaders with the insights needed to protect their employees, and help the company avoid legal risks and potential damage to their reputation. His work with Valued earned him a spot on the Forbes 30 Under 30 list for Enterprise Technology.
His background is in computer science and electrical engineering from UC Berkeley and theoretical mathematics from Lomonosov Moscow State University. As Founder and CTO of Valued, he is helping with leveraging technology to make make work safe and fair for all employees, to be able to be the best version of themselves without fear of bias, harassment, discrimination or bullying.
His fullstack 10x engineering expertise spans everything from software architecture, database design, data wrangling, data science, training custom ML models, creating backend APIs, speech recognition, natural language processing, computer vision, frontend product development, single page apps (React/Vue), design (Photoshop/Invision/Sketch), telephony, real-time audio streaming, enterprise integrations, devops, logging and QA, docker, microservices, building GPU servers and building games for fun in Unity and Unreal.
Related Speakers View all
---
Deon Nicholas and Sami Ghoche

Co-Founders of Forethought

Soroush Salehian

CEO & Co-founder, Aeva, Inc.

Daniel Getelman

Co-founder, Remix

Micah Green

Founder, Maidbot

Yuan Gao

Former Founder & CTO, Mavrx Inc.; Software Engineeri...

Gregory Falco

Co-founder, NeuroMesh; Postdoctoral Scholar, Stanfor...

Will (Wei) Song

Co-founder, Drive.ai

Joel Pazhayampallil

Co-founder, Drive.ai

Sameep Tandon

Co-founder, Drive.ai

Enis Gayretli

Co-founder, Botanalytics

Ilker Köksal

Co-founder, CEO, Botanalytics

Zeina Barr

Tech Entrepreneur, Founder; Raise the Barr

Anshul Vikram Pandey

Co-founder & CEO at Accern

Kumesh Aroomoogan

Co-founder & CEO at Accern

Shahed Khan

Co-founder & Business Development; Loom

Iyinoluwa Aboyeji

Founder, Flutterwave

Manu Sharma

Co-founder & CEO of Labelbox

Ray Zhou and Shubham Goel

Co-Founders of Affinity

Keno Fischer

Co-Founder of Julia Computing

Joseph Fasone

CEO, Pilot
More like George