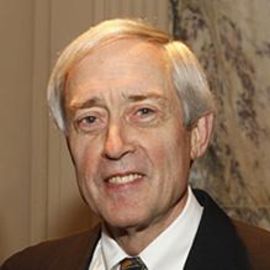 George Rupp has been president of the International Rescue Committee since July 2002. As the IRC's chief executive officer, Dr. Rupp oversees the agency's relief and rehabilitation operations in 25 countries and its refugee resettlement and assistance programs throughout the United States. In addition, he leads the IRC's advocacy efforts in Washington, Geneva, Brussels and other capitals on behalf of the world's most vulnerable people. His responsibilities regularly take him to IRC program sites in Africa, Asia, and Europe.
Before joining the IRC, Dr. Rupp was president of Columbia University. During his nine-year tenure, he focused on enhancing undergraduate education, on strengthening the relationship of the campus to surrounding communities and New York City as a whole, and on increasing the university's international orientation. At the same time, he completed both a financial restructuring of the university and a $2.84 billion fundraising campaign that achieved eight successive records in dollars raised.
Prior to his time at Columbia, Dr. Rupp served as president of Rice University, where in the course of his eight years applications for admission almost tripled, federal research support more than doubled, and the value of the Rice endowment increased by more than $500 million to $1.25 billion.
Before going to Rice, Dr. Rupp was the John Lord O'Brian Professor of Divinity and dean of the Harvard Divinity School. Under his leadership, the curriculum of the school was revised to address more directly the pluralistic character of contemporary religious life. Further developments included new programs in women's studies and religion, Jewish-Christian relations, and religion and medicine.
Born in New Jersey of immigrant parents, Dr. Rupp has studied and conducted research for extended periods in both Europe and Asia. He was awarded an A.B. from Princeton University in 1964, a B.D. from Yale Divinity School in 1967, and a Ph.D. from Harvard in 1972. He is the author of numerous articles and five books, including Globalization Challenged: Commitment, Conflict, and Community
Related Speakers View all
---
Julia Bolz

Women's Rights Activist

Brian Hoffstein

Contributing Writer

Dr. Anthony Fauci

Director, National Institute of Allergy and Infectio...

Calvin Trillin

Author, Columnist, Humorist & Political Satirist

Marina Adshade

Author of "Dollars and Sex: How Economics Influences...

Cody Adams

Managing Editor of The Floating University.

Jeffrey Israel

Jeffrey Israel has taught religion and political phi...

Peter Thiel

Former CEO and Co-founder of PayPal; Technology Entr...

Sir Richard Branson

Businessman, Founder of Virgin Group

Neil Giuliano

Gay Rights Activist & President and CEO of Greater P...

An Phung

Multimedia Journalist

Moby

Musician, DJ, Photographer

Matt Miller

Fortune Columnist, Author & Radio Host

Dan Ariely

Behavioral Economist; Professor at Duke University; ...

Andrew Kuper

President, LeapFrog Investment

Daniel Altman

Sports Analytics & Strategy Expert

Ray Kurzweil

Chairman of Kurzweil Technologies; Inventor; Futurist

Josh Lieb

Executive Producer, "The Daily Show"

David Hauslaib

Editor, Jossip

Steven Mazie

Associate Professor of Political Studies, Bard High ...
More like George