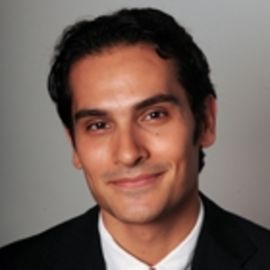 George Serafeim is an Assistant Professor of Business Administration in the Accounting and Management Unit. He teaches the courses "Innovating for Sustainability" and "South Africa; Innovating for Sustainability in an Emerging Market" in the MBA elective curriculum, the Executive Education program "Innovating for Sustainability", and the doctoral seminar "The Role of the Corporation in Society". These courses have been created by Professor Serafeim and Professor Robert Eccles, as part of a broader research agenda on reconceptualizing the role of the corporation and of capital markets in society. Previously he taught the "Financial Reporting and Control" course in the MBA required curriculum.
Professor Serafeim's research interests are international, focusing on understanding the relation between environmental, social and governance (ESG) performance and financial performance, how innovations in processes, products and business models can lead to improvements in both ESG and financial performance, and the role of disclosure, information and financial intermediation in efficient capital allocation and long-term value creation. His work has been published in prestigious academic and practitioner journals such as the Strategic Management Journal, Journal of International Business Studies, Review of Accounting Studies, Journal of Accounting Research, Journal of Finance, Contemporary Accounting Research, Management Science, Financial Analysts Journal, MIT Sloan Management Review, Journal of Applied Corporate Finance, Director Notes, Harvard Business Review and has also appeared in media outlets including Bloomberg, Financial Times, The Wall Street Journal, The Guardian, NPR and Responsible Investor. In the area of corporate sustainability, he has written more than twenty business cases on organizations from around the world. He is the co-author of a book on the transparency and valuation of insurance companies and the co-author of a study, commissioned by the European Union, that evaluated the relevance of public information disclosed during the transition of European companies to IFRS.
Professor Serafeim's work with Professor Ioannis Ioannou on corporate sustainability and sell-side investment recommendations received the best paper award from the Academy of Management, and their work on corporate sustainability and access to finance received the best paper award from the United Nations Principles for Responsible Investment network. He currently serves on the Technical Review Committee of the Global Initiative for Sustainability Ratings that is designing a generally accepted standard for sustainability ratings. Moreover, he is a member of the Standards Council of the Sustainability Accounting Standards Board that is engaged in the development and dissemination of industry-specific sustainability accounting standards. He has served also as an advisor to numerous organizations around the world.
Professor Serafeim earned his doctorate in business administration at Harvard Business School, where his dissertation was recognized with the Wyss Award for Excellence in Doctoral Research. He received a master's degree in accounting and finance from the London School of Economics and Political Science, where he was awarded the Emeritus Professors' Prize for best academic performance.
Videos
---