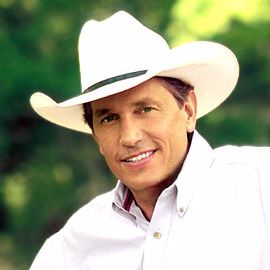 George Strait
George Strait is a country music singer, actor, and music producer. Strait is referred to as the "King of Country" and has been called a living legend by some critics
"Here For A Good Time," Strait's 39th studio album, is every bit fresh & new as it is comfortable, reliable King George. Co-produced by Strait and his longtime friend and legendary producer Tony Brown, George returned to the Jimmy Buffet owned Shrimpboat Sound Studio in Key West, FL to record the album. This is the same studio he has used to record his last three award winning albums.
With a career that spans three decades, Strait has racked up the most #1 singles of any artist in history including Elvis (57 to date inclusive of all charts). In addition to his nearly 69 million records sold, his 33 different platinum or multi-platinum albums account for the most RIAA platinum certifications in country music and is 3rd in all genres behind only The Beatles and Elvis Presley. Strait was inducted into the Country Music Hall of Fame in 2006.
Almost equally as impressive, Strait has spent his entire professional career on MCA Records Nashville. Yet even after all the years, hits and hardware Strait continues to pick up steam. The albums title track / lead single "Here For A Good Time" is not only his 89th career single, it clocked in as the second highest debut in his storied career on the Billboard Hot Country Songs chart.
While George didn't have much of a hand in writing his songs for many years, that has drastically changed on Here For A Good Time. After writing three songs with his son Bubba and trusted songsmith Dean Dillon for his 2009 album Twang, George is credited with co-writing seven of the tracks on the new album; six as a trio with Bubba and Dean (including the title track) while George and Bubba put together "Shame On Me" on their own.
It only takes two songs before Here For A Good Time delivers its first paralyzing punch in the form of "Drinkin' Man," a tale told through the eyes of a man who spends a lifetime desperately wanting/trying to walk away from the bottle but repeatedly falls into the drunken surrender of a life lost to liquor.
As with liquor, women have long been the pitfall of many a man and George puts forth his take on that as well with "Poison." Led along by a haunting guitar and George's floor sweeping baritone the song tells the tale that there's something in every mans life that can make you feel bulletproof. You can learn to love anything that can bring you pleasure or pain...you just have to pick your poison.
In 2016, Strait was selected as one of 30 artists to perform on "Forever Country", a mash-up track of Take Me Home, Country Roads, On the Road Again and I Will Always Love You which celebrates 50 years of the CMA Awards.