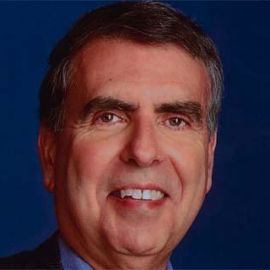 Gerald M. Levin, until May of 2002, was the Chairman and CEO of Time Warner Inc., at that time the world's largest media and entertainment company, with industry-leading businesses in publishing and news, cable networks, filmed entertainment, cable systems, music and interactive services.
A recognized pioneer in the development and deployment of digital and interactive media, Levin was the prime mover in the merger of Time Inc. and Warner Communications in 1990, the originator of Time Warner's merger with Turner Broadcasting System and CNN in 1996, and an architect of the merger of AOL and Time Warner in 2001. He became the first sole CEO of Time Warner in December of 1992, and was elected Chairman of the Board on January 21, 1993.
Levin became CEO of Time Warner in December after being named President and CO-CEO in February 1992. He became CEO of Time Warner in December 1992 after being named President and Co-CEO. He previously had been COO and Vice Chairman of Time Warner, a position he attained when Time Inc. merged with Warner Communications Inc. At Time Inc., Levin was named Vice Chairman and elected to the Time Inc. Board of Directors.
Levin joined Time Inc. in 1972 when Home Box Office, the company's pay-cable subsidiary, was in its developmental phase. He served as HBO's Vice President of Programming, was named its President and CEO and was promoted to Chairman. Levin made the historic 1975 decision to distribute Home Box Office via satellite, which helped create the modern cable industry.
Previously, Levin was an attorney with the New York City firm of Simpson Thacher & Bartlett and had been affiliated with Development and Resources Corporation, an international investment and management company, where he became General Manager and COO. Following that company's acquisition by International Basic Economy Corporation (IBEC), he served for a year as IBEC representative in Tehran, Iran.
Levin graduated Phi Beta Kappa from Haverford College and received a legal degree from the University of Pennsylvania Law School, where he was note editor of the Law Review. He has received honorary degrees from the University of Vermont, Texas College, Middlebury College, the University of Denver and Haverford College. He is also former Chairman of the Board of Haverford College. He is also the former Chairman of the Board of Managers of Haverford College and a Trustee Emeritus of Hampshire College.
Levin served as a Director of the New York Stock Exchange as well as the New York Federal Reserve Bank. He was also a member of the Board and Treasurer of the New York Philharmonic, a Board member of the Aspen Institute, the National Cable Television Center and the Museum of Jewish Heritage. He was on the Council on Foreign Relations, the Trilateral Commission, the Economic Club of New York and the Council of International Advisers to the Chief Executive of Hong Kong.
He is now the Presiding Director of Moonview Sanctuary, a holistic mental health institute in Santa Monica, California, founded by his wife, Dr. Laurie Ann Levin.
Videos
---
Speech Topics
---
Globalization & Corporate Social Responsibility
Management as a Humanist Art
Spirituality & the Human Condition