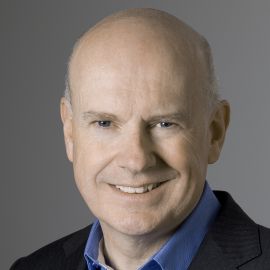 Gerard Baker is the former Managing Editor of Dow Jones and Editor-in-Chief of The Wall Street Journal, a role he held from January 1, 2013 to June 10, 2018. Since stepping down, Gerard Baker writes the Editor at Large column for Review.
Prior to his appointment as Editor-in-Chief, Mr. Baker served as Deputy Editor-in-Chief of The Wall Street Journal and Dow Jones Newswires, with responsibilities across the full spectrum of the company's journalism, including the print and digital editions of the Journal as well as Newswires.
Before joining the Journal, Mr. Baker was the U.S. Editor and an Assistant Editor of The Times of London, where he wrote news and commentary for Britain's longest continuously published newspaper and oversaw U.S. coverage for the paper and online editions.
From 1994 to 2004, Mr. Baker worked for the Financial Times, first as Tokyo Correspondent, where he wrote about the country's financial crisis, and then, from 1998 to 2002, as Washington Bureau Chief, where he led a team of 10 correspondents and provided extensive reporting and analysis of the Federal Reserve. From 2002 to 2004, he was the FT's Chief U.S. Commentator and an Associate Editor.
Before joining the FT, Mr. Baker worked for the BBC from 1988 to 1994, as a producer, then as U.S. producer, and finally as Economics Correspondent for TV and radio.
In addition to the Journal, the FT, The Times and the BBC, Mr. Baker's work has appeared in many other publications, and he has been a frequent television and radio contributor in the UK, the U.S. and around the world.
Mr. Baker started his working life in the financial sector, first as an analyst at the Bank of England, then as an economist at Lloyds Bank in the City of London.
He was educated at Corpus Christi College, Oxford University, where he graduated in 1983 with a First Class Honours Degree in Philosophy, Politics and Economics.
Videos
---
Related Speakers View all
---
Dr. Anthony Fauci

Director of the National Institute of Allergy and In...

Michael Ellsberg

Author of "The Education of Millionaires: It's Not W...

Dwayne Spradlin

President and CEO, InnoCentive, Inc.

Tom Freston

Principal, Firefly3; Former CEO, Viacom Inc.

Jeffrey Archer

Former UK Member of Parliament; Author

Brian Hoffstein

Contributing Writer

Cody Adams

Managing Editor of The Floating University.

Daniel Altman

Sports Analytics & Strategy Expert

Planet Money

NPR's Multimedia Team on the Global Economy

Andrew Ross Sorkin

Financial Columnist for The New York Times & Co-Anch...

Peter Thiel

Former CEO and Co-founder of PayPal; Technology Entr...

Gerry Adams

President, Sinn Fein

John Zogby

Trendspotter & Leading Pollster

Nicholas Burns

Professor of the Practice of Diplomacy & Internation...

Arun Shourie

India's Leading Journalist

Moby

Musician, DJ, Photographer

Robert Bryce

Energy Expert, Veteran Journalist & Acclaimed Author

Calvin Trillin

Author, Columnist, Humorist & Political Satirist

Michael Rogers

MSNBC's 'The Practical Futurist' & Technology Expert

Alan Murray

President & CEO of Fortune Media Group
More like Gerard