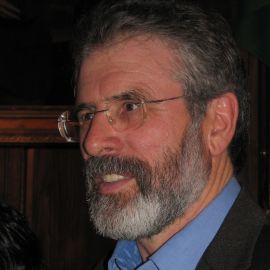 Gerard (Gerry) Adams is the president of Sinn Fein, the largest nationalist, Republican or pro-Belfast Agreement political party in Northern Ireland. He has been member of Parliament for Belfast West since 1997 and a member of the Northern Ireland Assembly for Belfast West since 1998. He is the Sinn Fein parliamentary leader in Dail Eireann, Ireland's House of Representatives.
From the late 1980s, Adams has been an important figure in the Northern Ireland Peace Process. Under Adams, Sinn Fein has moved toward being a professionally organized political party. He played a pivotal role in getting the IRA to give up its armed campaign against the UK in return for devolved government for Northern Ireland.
Adams was born in 1948 in West Belfast, Ireland, one of ten children who survived infancy in a nationalist Catholic family. He became involved in the Irish republian movement while working as a bartender, joining Sinn Fein and Fianna Eireann, the Irish Republican youth movement, in 1964. He was an active supporter of the Northern Ireland civil rights campaign in the late 1960s, and in 1967 he joined the Northern Ireland Civil Rights Association. After helping to navigate his party through violence and hunger strikes, Adams was eventually elected president in 1983, the first Sinn Fein MP to be elected to the British House of Commons since the 1950s, although in keeping with his party's policy, he has refused to sit in the House.
In 2007, less than two weeks after Adams was re-elected to the Northern Ireland Assembly, he came to an agreement with Democratic Unionist Party leader Ian Paisley regarding the return of the power-sharing executive in Northern Ireland. Adams remains a vigorous spokesman for the Irish Republican Movement.
Videos
---
Related Speakers View all
---
Sir Richard Branson

Businessman & Founder of Virgin Group

Cody Adams

Managing Editor of The Floating University.

Dr. Anthony Fauci

Director of the National Institute of Allergy and In...

John Legend

EGOT Winning Musician, Producer & Philantropist

Calvin Trillin

Author, Columnist, Humorist & Political Satirist

Parag Khanna

Leading Geo-Strategist & Author

Ingrid Newkirk

President, PETA

An Phung

Multimedia Journalist

Brian Hoffstein

Contributing Writer

Shashi Tharoor

Diplomat & Author; Former United Nations Under-Secre...

Peter Thiel

Former CEO and Co-founder of PayPal; Technology Entr...

Tom Freston

Principal, Firefly3; Former CEO, Viacom Inc.

Gillian Caldwell

CEO of Global Witness

Jeffrey Israel

Jeffrey Israel has taught religion and political phi...

Moby

Musician, DJ, Photographer

Mitt Romney

Former Governor of Massachusetts, 2012 Republican Pr...

Jimmy Carter

Former United States President (1977-1981), Author

Dan Ariely

Behavioral Economist; Professor at Duke University; ...

Kenneth Roth

Executive Director, Human Rights Watch

Matthew Bishop

Managing director, Rockefeller Foundation and Former...
More like Gerry