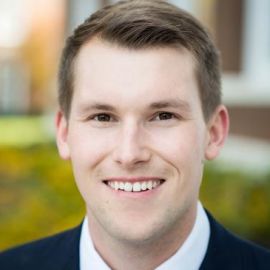 Griffin Daughtridge is the Cofounder and CEO of UrSure, Inc., an HIV prevention company. UsSure makes diagnostics to help vulnerable patient populations protect themselves from HIV infection and has raised $405,000 in funding.
Daughtridge is the winner of the 2017 Bertarelli Prize, which is awarded to the winner of the 'Health & Life Science Track' in Harvard University's annual President's Innovation Challenge. In 2018, he was recognized as a Forbes 30 Under 30 honoree in healthcare.
Daughtridge completed his undergrad at the University of North Carolina at Chapel Hill and received a Masters degree from Harvard University. He earned his MD at University of Pennsylvania School of Medicine.
Related Speakers View all
---
Lea von Bidder

Forbes 30 Under 30 in Healthcare; Cofounder, Ava Sci...

Cathy Tie

Forbes 30 Under 30 in Healthcare; Cofounder, Ranomics

Kevin Eisenfrats

Forbes 30 Under 30 in Healthcare; Cofounder, Contraline

Waleed Asif

Forbes 30 Under 30 in Healthcare; Cofounder, NexHealth

Shuo Qiao

Forbes 30 Under 30 in Healthcare; Cofounder, Moving ...

Ade Adesanya

Forbes 30 Under 30 in Healthcare; Cofounder, Moving ...

Alex Villa

Forbes 30 Under 30 in Healthcare; Cofounder, Healthify

Eric Conner

Forbes 30 Under 30 in Healthcare; Cofounder, Healthify

Manik Bhat

Forbes 30 Under 30 in Healthcare; Cofounder, Healthify

R. Danae Vachata

Forbes 30 Under 30 in Healthcare; Cofounder, Dynamic...

Abby Cohen

Forbes 30 Under 30 in Healthcare; Cofounder, Sparo

Eric Pahl

Forbes 30 Under 30 in Healthcare; Cofounder, HealthT...

Ivonna Dumanyan

Forbes 30 Under 30 in Healthcare; Cofounder, Fathom AI

Luke Lee

Forbes 30 Under 30 in Healthcare; Cofounder, 3T Bios...

Leah Sibener

Forbes 30 Under 30 in Healthcare; Cofounder, 3T Bios...

Siddarth Satish

Forbes 30 Under 30 in Healthcare; Founder, Gauss Sur...

Andreas Puschnik

Forbes 30 Under 30 in Healthcare; Fellow, Chan Zucke...

Garrett Spiegel

Forbes 30 Under 30 in Healthcare; Cofounder, Standar...

Jeff Huber

Forbes 30 Under 30 in Healthcare; Cofounder, Standar...

Alamin Uddin

Forbes 30 Under 30 in Healthcare; Cofounder, NexHealth
More like Giffin