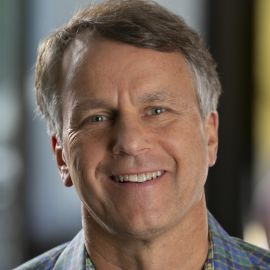 Glen Tullman is the Executive Chairman and Chief Executive Officer of Transcarent, the first comprehensive, consumer-directed health and care platform for employees of self-insured employers and their families. Born in Silicon Valley, Transcarent's platform empowers consumers with the kind of information, guidance and access that leads to better care, better outcomes, and more cost-effective decisions for everyone. Tullman is the former Executive Chairman, Chief Executive Officer, and Founder of Livongo Health, the first at-scale consumer digital health company to truly empower people with chronic conditions to live better and healthier lives using data science. In his final year, he led Livongo through the largest consumer digital health Initial Public Offering in history, a secondary offering, a convertible debt offering that raised over $550 million, and the industry's largest merger to date between Livongo and Teladoc Health, valuing Livongo at $18.5 billion and beginning a new era of consumer centric virtual care. A visionary leader and entrepreneur, Tullman previously ran two other public companies that changed the way health care is delivered. During his time as Chief Executive Officer of Allscripts, the Company was the leading provider of electronic prescribing, practice management, and electronic health records. Glen led Allscripts IPO and Secondary offerings. Prior to Allscripts, he was Chief Executive Officer of Enterprise Systems, the leading resource management systems for hospitals, which he also took public and then sold to McKesson/HBOC. Before entering healthcare, Tullman served as President and COO of CCC Information Systems, a provider of computerized systems for the property and casualty insurance sector. Tullman is also one of two Founding Partners at 7wireVentures, one of the highest returning venture capital funds in Illinois. He is the author of On Our Terms: Empowering the New Health Consumer, in which he proposes new solutions to address the chronic-condition epidemic facing our country. Glen is dedicated to finding a cure for diabetes and other chronic conditions—and to keeping people healthy until cures are found. A strong proponent of philanthropy, he was honored in 2019 with a Robert F. Kennedy Human Rights Ripple of Hope Award for his career focused on improving the safety, empathy, and efficiency of our healthcare system. He also serves as a Chancellor to the International Board of the Juvenile Diabetes Research Foundation and as a Board Member and the incoming Chairperson of the American Diabetes Association. Tullman has three amazing children that inspire him every day.
Related Speakers View all
---
Karen DeSalvo

Chief Health Officer at Google, Former Assistant Sec...

Nadine Hachach-Haram

Co-Founder Proximie, NHS Clinical Entrepreneur Fello...

Susan Dentzer

President & Chief Executive Officer of the Network f...

Dr. Joel Selanikio

Award-Winning Physician, Health & Technology Activis...

Dr. Jeffrey Bauer

Health Futurist, Author & Medical Economist

Toby Cosgrove

Former CEO & President at Cleveland Clinic

Christine Sinsky

Vice President of Professional Satisfaction at the A...

Dr. Aenor Sawyer

Orthopedic Surgeon; Associate Director of Strategic ...

Rishi Manchanda

Physician, Public Health Innovator, President & CEO ...

Daniel Kraft, M.D.

Physician-Scientist; Founder of Exponential Medicine...

Marty Makary, M.D.

Healthcare Futurist, Johns Hopkins Surgeon & Profess...

Anton J. Gunn

Motivational Leadership Speaker, Author & Healthcare...

Megan Callahan

Vice President of Healthcare at Lyft

Janemarie Mulvey

Principal & Owner of Mulvey Healthcare Strategies

Alice Zhang

Co-Founder & CEO of Verge Genomics, A Company Utiliz...

Peter Salgo

Healthcare Futurist, Emmy Award-Winning Health & Sci...

Sara Gorman

Public Health & Behavioral Science Expert

Erica Weirich

Founder, Global Health Research Foundation

David Agus

Professor of Medicine and Engineering at the Univers...

Brian A. Primack, MD, PhD

Dean of the College of Education and Health at the U...
More like Glen