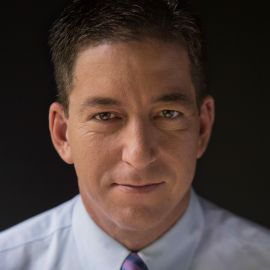 Glenn Greenwald
Former Constitutional Lawyer, Pulitzer Prize-Winning Journalist, Commentator & Best-Selling Author
Glenn Greenwald is a former constitutional lawyer, a Pulitzer Prize-winning journalist and the author of several bestsellers, including "With Liberty and Justice for Some: (2011) and "No Place to Hide: Edward Snowden, the NSA, and the U.S. Surveillance State" (2014).
Acclaimed as one of the 25 most influential political commentators by The Atlantic, one of America's top 10 opinion writers by Newsweek and one of the Top 100 Global Thinkers for 2013 by Foreign Policy, Greenwald is a former constitutional and civil rights litigator. He was a columnist for The Guardian until October 2013 and is now a founding editor of The Intercept. He is also a frequent guest on CNN, MSNBC, FOX and various other television and radio outlets.
Greenwald has won numerous awards for his NSA reporting, including the 2013 Polk Award for national security reporting, the top 2013 investigative journalism award from the Online News Association, the Esso Award for Excellence in Reporting (the Brazilian equivalent of the Pulitzer Prize), and the 2013 Pioneer Award from Electronic Frontier Foundation. He also received the first annual I.F. Stone Award for Independent Journalism in 2009 and a 2010 Online Journalism Award for his investigative work on the arrest and detention of Chelsea Manning. In 2013, Greenwald led the Guardian reporting that was awarded the Pulitzer Prize for public service, and his work was featured in the 2014 film Citizenfour, which won the Academy Award for Best Documentary.
Greenwald lives in Rio de Janeiro, the hometown of his husband, David Miranda, now a Congressman with the left-wing PSOL party. Greenwald said in 2011 that his residence in Brazil was a result of the Defense of Marriage Act, an American law barring federal recognition of same-sex marriages that was overturned by the U.S. Supreme Court two years later. The law had prevented his partner from receiving a visa to reside with him in the United States.
Related Speakers View all
---
Bob Woodward

Legendary Pulitzer Prize-winning Journalist/Author a...

Joy-Ann Reid

MSNBC Correspondent, Political Author & Former Host ...

Meghan McCain

Co-Host of "The View," Political Columnist, Author &...

Juan Williams

New York Times Best-Selling Author, Fox News Politic...

Laura Ingraham

Political Commentator, Television Host & Journalist

Katty Kay

Anchor on BBC World News America; Co-Author of "Wome...

Van Jones

CNN Political Contributor; Author; Human Rights, Edu...

Anderson Cooper

Journalist, TV Personality, Anchor of CNN's "Anderso...

Gloria Borger

Award-Winning Chief Political Analyst & Columnist

Ben Domenech

Founder & Publisher of The Federalist

Jamelle Bouie

New York Times Columnist & Political Analyst for CBS...

Jason Mattera

Emmy-Nominated Journalist, Conservative Activist & A...

Doug Giles

Conservative Columnist, Political Commentator & Auth...

Angela Rye

Attorney, Principal & CEO of IMPACT Strategies, CNN ...

S.E. Cupp

Conservative Columnist, Best-Selling Author & CNN Co...

Steve Clemons

Editor-at-Large at The Hill; Former Editor-in-Chief ...

Eleanor Clift

Author; Washington Correspondent & The Daily Beast C...

Carrie Budoff Brown

Managing Editor of POLITICO

Sam Stein

Political Editor at The Daily Beast & MSNBC Contributor

Sally Kohn

Founder and CEO of Movement Vision Lab; Liberal Poli...
More like Glenn