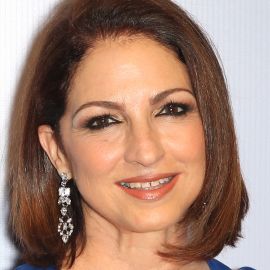 Gloria Estefan, an international superstar, is one of the most recognized artists in the world. With five Grammy Awards and more than seventy million albums sold worldwide, Estefan is the single most successful crossover performer in the history of Latin music.
Born Gloria Maria Fajardo in Havana, Cuba to Jose Manuel Fajardo, a Cuban security soldier and school teacher mother Gloria Garcia Perez de Fajardo. Her family fled Cuba in 1959 when Fidel Castro seized power of the country and settled in Miami.
Estefan began her career as lead vocalist for the Miami Sound Machine, a then exclusively Spanish language group that was among the first pioneering Latino groups to break into the mainstream pop market. In 1987 they won the American Music Award for Best Pop Band. In 1989 she went solo with the worldwide success of Cut Both Ways.
While touring for this album, a tractor trailer crashed into Estefan's tour bus, critically injuring her and breaking her back. After enduring almost a year of grueling physical therapy, Estefan made an astonishing full recovery from injuries that should have left her paralyzed and returned to the top of the charts with the release of the multi-platinum album Into the Light and a 29-country world tour. Now, over a decade later, she continues to thrive and secure her status as one of pop music's true and enduring originals.
In addition to her five Grammys, Estefan has received a number of other prestigious awards. In 1992 Estefan was the first ever Latin female to receive the BMI Songwriter of the Year award, Bnai Brith honored her as Humanitarian of the Year, and she won the Premio Lo Nuestro Lifetime Achievement Award.
In May, 1993 she received the Ellis Island Congressional Medal of Honor, which is one of this country's highest awards that can be given to a citizen born outside the United States. She has won the Hispanic Heritage Award, an MTV Music Award, two cable television ACE awards and the 1993 National Music Foundation's Humanitarian of the Year award. She has been honored twice by the Songwriters Hall of Fame: in 1996 she won the Hitmaker Award; and along with her husband, Emilio, won the Sammy Cahn Lifetime Achievement Award in 2001.
In 2003, she was inducted into the Florida Women's Hall of Fame. She was also the recipient of the American Music Award for Lifetime Achievement and has a star on Hollywood's Walk of Fame.
Estefan has also been honored for her humanitarian and philanthropic work. She was honored by President George H. W. Bush for her anti-drug efforts. The Alexis de Tocqueville Society awarded her the United Way Outstanding Philanthropy Award in 1993. She was Musicares Person of the Year in 1994. In 2002, she received the Congressional Hispanic Caucus Institute Medallion of Excellence for Community Service.
The City of Hope, one of her favorite charities, in 2004 presented her with the Spirit of Life Award in recognition of her contributions to the Hispanic community. Her hometown of Miami honored her, in 2004, with the Mayor's Lifetime Achievement Award. Most recently she was presented with the American Spirit Award by the Pepperdine University Hispanic Council. She has also founded the Gloria Estefan Foundation aimed to reach those who struggle outside the safeguards of society by promoting good health, education, and cultural development.
In 2015, she received the Presidential Medal of Freedom for her contributions to American music and received the Kennedy Center Honors in December 2017 for her contributions to American Culture Life. Estefan also won an MTV Video Music Award, she was honored with the American Music Award for Lifetime Achievement, as well as being named BMI Songwriter of the Year.
Her and her husband Emilio's story was also turned into a jukebox Broadway musical, "On Your Feet!" After a run on Broadway and national tours, international tours are in the works.
She has received multiple Billboard Awards, is on the list of VH1 top 100 Greatest Artists of All Time, and in Billboard's Top 100 Greatest Artists of All Time.
Taking her passion for living and learning a step further, Estefan has recently been dedicated to the launch of her first children's book, The Magically Mysterious Adventures of Noelle the Bulldog, to be published in both English and Spanish. The book centers around the life of an intrepid bulldog named Noelle who does not feel like she fits into the new and mythical land she now calls home. Having lifelong experience with issues of fitting in, discovering her own voice, keeping her integrity, and succeeding, she now writes about the value of individuality and the power of self-respect.
Estefan's greatest pride is her family, Nayib and Emily Marie, and her marriage with her husband Emilio Estefan. Through her magnetic persona and transcendent music, she hopes to continue inspiring fans from around the world to continue reaching "higher."
Videos
---
Speech Topics
---
An Evening with Gloria Estefan