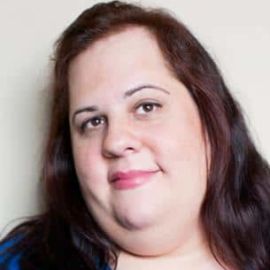 Golda's mission is to empower plus sized women to live their best, most joyful lives, free of stress and shame over what they eat and what they weigh.
For nearly ten years, Golda was a fat positive blogger and Health at Every Size Coach. Through her one-to-one and group coaching and supportive blog, she helped hundreds of people heal from the pain of body hatred and disordered eating.
Golda's book, Stop Dieting Now: 25 Reasons To Stop, 25 Ways to Heal, was published in paperback and Kindle editions in June 2010. She was also a contributing writer at Everyday Feminism and a featured weekly columnist at More of Me to Love. She has written articles for Jezebel.com and Daily Venus Diva, and has had a popular podcast on body acceptance and intuitive eating. Golda is also featured in Big Big Love: a Sex and Relationships Guide for People of Size (and Those Who Love Them), by Hanne Blank and the anthology Hot & Heavy: Fierce Fat Girls on Life, Love & Fashion, edited by Virgie Tovar. In 2013, she gave a popular TEDx talk on "Why It's Okay To Be Fat."
Though she stopped coaching a few years ago, you can still find LOTS of support for disordered eating and negative body image in her blog.
Golda now focuses her creative efforts on music. Her EP, "A Little Luck" was released in May of 2017, and she expects to release her next album, "Be My Satellite" in early Summer 2018. In her music, she explores themes of love and loss, along with finding your way in the world when you don't fit a certain ideal.
Related Speakers View all
---
Emme

Supermodel, TV Personality, Social Reformer & Chair ...

Tracy Revell

Presence, Fitness and Confidence Coach

Dr. Janet Taylor

Self Care & Wellness Activist and Psychiatrist

Jessica Cox

World's First Armless Pilot & First Armless Black-Be...

Gina Susanna

Body Positivity Influencer; Survivor of Anorexia and...

Erin Konheim Mandras

Inspirational Speaker & Blogger on Body Image

Jessamyn Stanley

Yoga Teacher, Body Positive Advocate & Writer

Ashley Graham

Model, Entrepreneur, & Body Image Activist

Ann Shoket

Former Editor in Chief of Seventeen Magazine, Author...

Kristina Saffran

Co-Founder & Chief Executive of Project HEAL; Eating...

Tina Marie Jones

Connecting with the audience through the style of a ...

Constance Rhodes

Author, Eating Disorder Advocate & CEO of FINDINGbal...

Joy Nash

Actress Known for AMC's "Dietland"

Rachel O'h-Uiginn Estapa

Body Positivity Advocate, Writer, Life Coach

Melissa A. Fabello

Body Acceptance Activist, Sexuality Scholar

Sarah Rae Vargas

Body Positivity Advocate, Blogger "Ravings by Rae"

Virgie Tovar

Author, Activist and One of the Nation's Leading Exp...

Jes Baker

American Writer, Photographer, and Activist, Best Kn...

Gabi Gregg

Co-Founder of PREMME & Body Positivity Blogger

Dascha Polanco

Dominican-American Actress; Best Known for "Orange i...
More like Golda