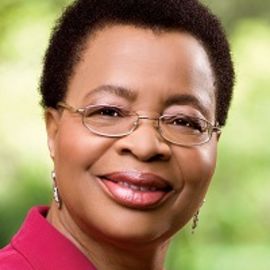 Graça Machel
African Stateswoman Known for Her Advocacy for Women & Children; UN Sustainable Development Goals Advocate
Graça Machel is an African stateswoman whose decades-long professional life has been focused on Mozambique's struggle for self-rule and advocacy for women and children.
Machel is known for her dedication to education in Mozambique and for her leadership in organizations helping the children of her war-torn country. Machel has been a major force in increasing literacy and schooling in Mozambique and has spoken to the needs and rights of children and their families all over the world.
Machel is the widow of a former president of South Africa, Nelson Mandela, and a former president of Mozambique, Samora Michel, making her the only woman in modern history to have served as the First Lady of two countries.
Machel has created three non-governmental organizations. She founded and serves as President of the Foundation for Community Development and the Zizile Institute for Child Development. In 2010, she founded the Graça Machel Trust, which focuses on advocating for women's economic and financial empowerment, food security, nutrition, and education for all.
In 1997, Machel was made an honorary British Dame by Queen Elizabeth II for her humanitarian work. She has also been the recipient of the United Nations' Nansen Refugee Award and the World Health Organization's WHO Gold Medal, the latter for her contributions to the health of women and children.
From 1999 to 2019, Machel served as the chancellor of the University of Cape Town.
In 2016, she was announced by the UNESCO as a Sustainable Development Goals Advocate alongside 16 others, all appointed by the Secretary-General of the UN.
Machel has dedicated her life to improving the fate of women and children, inspiring hope, and building a more just and equitable world for us all.