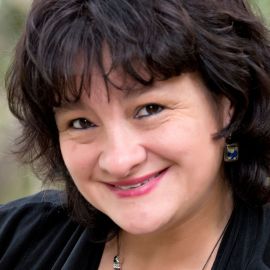 Graciela Tiscareño-Sato
Award-Winning Author, Military Veteran, Aviator & Chief Executive Officer of Gracefully Global Group, LLC
Graciela Tiscareño-Sato is a bilingual sought-after speaker and Chief Creative Officer of Gracefully Global Group LLC, the premiere, award-winning publishing and marketing firm for Latino innovation, entrepreneurship and leadership stories.
She's the bestselling author of "Latinnovating: Green American Jobs and the Latinos Creating Them." This is the first volume (of a planned series) showcasing Latino-led innovation in the green economy. At the 2012 International Latino Book Awards, she picked up the following awards: 1st Place, Best Business Book, 1st Place, Best Nonfiction eBook, 2nd Place, Best Nonfiction Young Adult Book.
Graciela speaks at universities, business schools, industry conferences, corporate ERG meetings, educational conferences and K-12 literacy & career events. In 2012, she shared the stage with Secretary of Education Arne Duncan, as keynote speaker at the Green Schools National Conference. She serves school districts as a STEM Consultant.
Her ground-breaking book"Latinnovating" represents the convergence of Ms. Tiscareño-Sato's corporate sustainability experience, entrepreneurial drive and her desire to share compelling stories of innovation and leadership from the Latino community.
She's a graduate of the School of Environmental Design at Berkeley, a former military officer and aviator and an active mentor to Latino youth. She earned her graduate degree while on active duty with the U.S. Air Force flying onboard KC-135 refueling jets.
Graciela's thought leadership pieces have published in the U.S. and Europe including Environmental Leader, Hispanic MBA and many more. She's been quoted in the New York Times and contributes to the Huffington Post.
In March 2014, The White House named her a Champion of Change with 9 other Women Military Veteran Leaders. LATINAStyle Magazine honored her as the "Entrepreneur of the Year" in Washington D.C.
In July 2013, she published her 1st children's picture book (of planned series), "Good Night Captain Mama." This is 1st bilingual book teaching young children why mommies wear military uniforms; it's been named a finalist in the "Best Educational Children's Book – Bilingual" category in 2014 International Latino Books Awards.
Videos
---
Speech Topics
---
7 Military Leadership Lessons Professional Women Can Use Daily
Students and professionals will learn:
How to break barriers when the odds are against you; Difficult life experiences that taught valuable lessons; Tips to focus and boost productivity; Leadership lessons to employ immediately; How to reject guilt; How to be a decisive leader and exude confidence; and other wisdom from Air Force career as officer, aviator and instructor.
A former military officer and aviator shares tips, techniques and nuggets of wisdom you can use in your life every day. Learn about Graciela's global career in the military, her highs and lows as an entrepreneur and award-winning author, and how she constantly reprioritizes competing issues as a mother of three, including a child with special needs. Topic is available as a keynote speech, half-day or full-day workshops. Participants will identify personal obstacles and walk away with a simple plan of action to implement.
Future Work Options in a Globalized World: Learning from Social Entrepreneurs in the Green Economy
Students and professionals will:
Gain new perspectives of globalization, from a global citizen; Expand your horizons about global career possibilities; Learn about specific entry points into the green economy; Learn how to "grow your own career" from those doing it; See the benefits of global mobility for college grads; Hear specific, real world examples of leadership and innovation.
This workshop and presentation was created by bestselling author, entrepreneur and global citizen Graciela Tiscareño-Sato, a former military officer who has lived in and worked in over two dozen nations. She shares with audiences lessons of globalization learned in her military and post-military professional careers, that include a decade working as a global marketing manager for a German conglomerate headquartered in Munich. This workshop will challenge your current opinion of the unstoppable force of globalization, help you navigate its complexity and arrive at a point where you can decide to become globally mobile, pursue social entrepreneurship, or grow your own job to benefit the planet.
Entrepreneurial Successes in the Green Economy: Role Models and Innovations from the Latino Community
Students and professionals will learn:
Specific entry points into the green economy; 10 industries in transition from wasteful to sustainable; How cultural values from the fast-growing Latino community inspire environmental entrepreneurship; How to start a career path and take specific actions to join today's leaders; From where strong leadership and innovation is coming; With whom to partner to green an organization; See who is creating real innovation and new green careers today.
This session is for anyone interested in how green companies and organizations are created by courageous change agents. It is actionable inspiration to create your own company, harm our planet less and create sustainable jobs for Americans.
Related Speakers View all
---
Eva Longoria

Award-Winning Actress, Producer, Director, Activist,...

Danielle Feinberg

Director of Photography at Pixar Animation Studios; ...

Nina Davuluri

Acclaimed Actor, Producer, Host, Advocate & Entrepre...

Kristie Kennedy

Women's Worth & Wellness Expert, TEDx Audacious Lead...

Carey Lohrenz

First Female F-14 Fighter Pilot in the U.S. Navy, T...

America Ferrera

Award-Winning Actress, Producer & Humanitarian

Michael Bodekaer

Technology Entrepreneur & Founder of Labster

Kate Walsh

President of National Council on Teacher Quality

Anna Escobedo Cabral

Former Treasurer of the United States; Partner, The ...

Charlie Alejandro

Motivational Speaker, Writer, Actress & Radio Talk S...

Sonya Pryor-Jones

Chief Implementation Officer at Fab Foundation (MIT)...

Shirley Ann Jackson

Theoretical Physicist; Inventor; President of the Re...

Anna Maria Chávez

EVP & Chief Growth Officer of the National Council o...

Shayla Rivera

Hispanic Actor; Comedian; Awareness Expert; Cancer S...

Olympia LePoint

Award-Winning Rocket Scientist, Science Entertainer ...

Joyce Maynard

Former New York Times Reporter & Columnist; Best-Se...

Eva Mendes

Actress; Six-Time ALMA Award Nominee; International ...

Adora Svitak

Author, Speaker, Youth Advocate & Child Welfare Prof...

Maria Hinojosa

Award-Winning News and Investigative Journalist; Hos...

Rebecca Walker

Bestselling Author & Founder of the Third Wave Femin...
More like Graciela