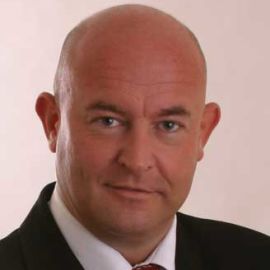 After Dinner speaking is an activity where skill and experience are as important as celebrity status.
Graham has developed his own inimitable speaking style which combines corporate finesse with sharp topical wit and has been described by the Mail on Sunday as "one of the funniest people in the UK".
Graham uses his 15 years experience as a criminal barrister in working to a precise brief about his audience. His speech content is a carefully calculated blend of:
Highly insightful views on how companies and individuals can communicate more effectively
Subtle endorsements of the key messages required by the client
Outright comedy
Content and duration are always bespoke and will vary according to the brief received.
Graham has a reputation for being corporately sensitive as well as extremely funny, whatever country he is speaking in: Boris Johnson Foreign Secretary "Graham Davies is a talented gagmeister who shows that the best way of exposing a bad argument is with a good joke."
Catherine Atkins Event Manager, Nortel Networks "The fact that you had tailored your speech towards our industry…made the whole thing feel very special. In a room full of different nationalities, you managed to encompass them all and make everyone laugh at themselves and each other."
Penny Philpot Director, Oracle Corporation "Graham very skilfully provided light-hearted relief while helping to deliver our key business messages, which he endorsed very cleverly…he had the international audience in stitches."
Frank Whittaker Sales & Marketing Director, Granada Food Services "Thank you for providing such a professionally hilarious end to our conference dinner… I was glad when you finished as my ribs ached and I wanted to stop crying."
Videos
---
Related Speakers View all
---
Catherine Crier

Acclaimed Author, Former Judge, Award-Winning Journa...

Amy Oestreicher

TEDx Speaker, author, artist, HuffPost columnist, an...

LeTicia Lee

As a former filmmaker {freelanced on various project...

Joel Zeff

National Speaker and Emcee, Workplace Expert, Author...

Erik Wahl

Internationally Recognized Graffiti Artist, Entrepre...

Dan Thurmon

Author & Peak Performance Expert

Ross Shafer

Six-Time Emmy Award-Winning Comedian, TV Host & Best...

Mike Rayburn

Thought Leader, Artist & Entertainer

Bob Losure

Former Anchor for CNN Headline News & Cancer Survivor

Bob Hirschfeld

Business Satirist

Amanda Gore

CEO of The Joy Project; Author & Psychologist; Emoti...

Scott Friedman

Engagement and Innovation Expert, Motivational Humor...

Roy Firestone

Award-Winning Journalist, Commentator & Impressionist

Mimi Donaldson

Speech Coach & Author of "Negotiating for Dummies" a...

Jim Cathcart

Sales & Marketing Hall of Fame Speaker

Jack Canfield

Co-Author of "Chicken Soup for the Soul" Series; Pea...

Michael Broome

Motivational Speaker on Balanced Life & Values; Stre...

Anand Bhatt

Speaker on eastern and western spirituality, leaders...

Murray Banks

Triathlon Champion / Motivator

Bodine Balasco

Entertainment and Business Speaker
More like Graham